Greek officials evacuated houses, children's hospitals and a retirement home Sunday as firefighters backed by water-bombing aircraft battled a raging wildfire threatening Athens' eastern suburbs.
A community of 150 homes near Marathon was evacuated as the flames threatened suburbs in a residential area with around 60,000 people.
Television footage showed a smouldering hillside over Marathon which lies near Athens' main water supply and the archaeological site of the historic battle between the ancient Greeks and Persians in 490 BC.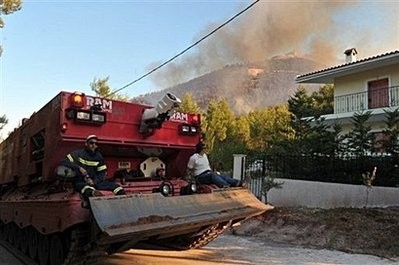 A firefighting vehicle moves towards the fire in Dionissos northern Athens suburb
And after local officials evacuated patients from two children's hospitals and a summer camp; and pensioners from a retirement home, local officials accused firefighters of having failed to properly put out the fire.
"The fire department failed to understand where the blaze is and did not send units in time," Mayor Spyros Zagaris told Mega channel.
Hundreds were forced to flee as the flames and smoke threatened outlying residential districts.
Some homeowners however defied official advice to leave and stayed behind to fight the inferno -- the worst since the 2007 wildfires that claimed 77 lives -- despite power and water supply cuts.
"We will spend the night taking guard shifts," one middle-aged resident in Agios Stefanos told Mega television.
"We have no water, but we're hoping the wind will die down," he said.
More than a dozen homes and several cars have already been gutted in the outlying area.
Two people so far have been admitted to hospital, one with burns and the other with a heart-related problem, NET reported.
Fire crews were stretched thin across a 30-kilometre (20-mile) front despite reinforcements from the provinces. Many residents complained about being left to face the flames alone with shoddy equipment.
"The fire hoses had holes in them and the hydrants were full of rocks," one volunteer firefighter told Alpha television.
Over 600 firefighters, hampered by strong winds and thick smoke, have struggled to halt the wildfire since it started Friday despite support from 12 water-bombing planes and seven helicopters.
"The situation remains difficult, a tremendous effort continues on all fronts and through the night," Prime Minister Costas Karamanlis said late Sunday after visiting the fire operations centre.
Earlier Sunday, Karamanlis said the country faced "a great ordeal" and praised the firefighters' "superhuman" effort.
Deputy interior minister Christos Markoyiannakis told reporters: "We are continuing a difficult battle under adverse weather conditions, mainly because of shifting winds that complicate the task at hand."
President Karolos Papoulias has rushed back from vacation.
Two French airplanes and a Cypriot helicopter arrived to help on Sunday, and another two French planes are expected Monday as part of reinforcements sent by the European Union.
Two Italian planes operated in the area earlier in the day and Austria has also pledged to send help. But none of the aircraft can operate after dark.
Police urged Athenians returning from holiday to postpone their journey to avoid clogging roads. Football matches, including the clash between AEK Athens and Olympiakos, were cancelled in the capital.
Around 12,000 hectares (30,000 acres) of land have been devastated, according to early official estimates, and the blaze may also have destroyed or damaged scores of rural and summer homes.
The fire started late Friday in a rural area of Grammatiko, around 40 kilometres (25 miles) northeast of Athens, earmarked for a new waste disposal facility strongly opposed by local residents.
The military had to relocate missiles and ammunition from a military camp Saturday as strong winds pushed the flames back and forth across a forested area scattered with villages.
Firebreaks in the forest on Mount Penteli, the last barrier to the capital, failed to hold the flames late Saturday, and the fire crossed into the northeastern Athens suburbs of Dionysos, Stamata and Rodopoli.
With temperatures often running above 40 degrees Celsius (104 Fahrenheit) and seasonal strong winds, Greece is particularly vulnerable to summer fires that ravage forest and agricultural land.
The fire department said a "gigantic mobilisation" was underway to tackle some 85 blazes nationwide.
Late Sunday, 25 people were evacuated from a beach in Viotia, central Greece after becoming trapped by another fire, the merchant marine ministry said.