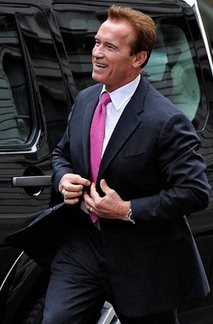 AFP file - Arnold Schwarzenegger pictured on October 14, 2010
LOS ANGELES (AFP) – Arnold Schwarzenegger, the champion Austrian bodybuilder who became a Hollywood movie star and then morphed into a respected US politician, is about to have to reinvent himself again.
But with only days to go before voters pick his successor as California governor, few seem to know what he will do next -- and the man himself is giving nothing away.
"There are a lot of options: make movies, write books," the 63-year-old Schwarzenegger said in off-the-cuff remarks during a visit to Moscow this month, while insisting he will not yet "take eyes off the ball" of his governorship.
Schwarzenegger -- known here as the "Governator" after his most famous silver screen role -- will have served for seven years as leader of the most populous state in the United States when he finally steps down in January.
While he impressed many by his transformation into a liberal Republican and green champion who won reelection in 2006, his poll ratings have slid of late, in line with California's dire economic fortunes.
Even if he had wanted to stay on -- California law bars him from holding the governor's office for more than two terms -- he would be unlikely to persuade voters to back him again in Tuesday's elections.
But Schwarzenegger still radiates charisma and the drive which made him a celebrity politician. Some speculate he could run for public office again -- maybe this time in Washington for Congress at the next elections.
Others point out that he would have trouble reining in his huge ego as part of legislative assembly. There was also talk at one stage of him joining President Barack Obama's administration in some kind of environmental role.
One thing is for sure: despite his ambition, he cannot run for the White House against Obama in 2012. The US constitution bars candidates who are not natural born Americans from running for president. So even though Arnie is a naturalized citizen he cannot stand for the nation's highest office.
It is all a long way from his humble beginnings in a small town near Graz in eastern Austria.
In 1968, after winning a string of bodybuilding contests, the penniless 21-year-old came to the United States to pursue his passion.

He earned a business and economics degree from the University of Wisconsin, and showed early business acumen, quickly becoming a millionaire while winning the Mr Universe title four more times.
Shrugging off barbs about his thick accent and brawn, he then turned to acting.
He finally made it big in 1982's "Conan the Barbarian" and its sequel, "Conan the Destroyer" (1984), while he won the role of a killer android in "The Terminator," a role that would shape the remainder of his acting career.
Joining Hollywood's royalty, his ominous "Terminator" catchphrases "I'll be back," and "Hasta la vista, baby" have now entered the English language.
And he could yet return to showbiz now that his time as governor in Sacramento is coming to a close.
Granted, he doesn't need the money after the fortunes he made in blockbuster movies -- he was on a reported 30 million dollars a movie at his height -- not to mention his extensive business activities over the years.
Talk of a return to Hollywood was fueled by Tom Arnold, his co-star in the buddy movie "True Lies," who said last year that they would be reunited in another major film project as soon as Schwarzenegger leaves office.
"All I know is ("Terminator" and "True Lies" director) Jim Cameron's making it and Arnold and I are going to be in it, and it starts shooting... the day after Arnold stops being governor of California," he told The New York Times.
But Schwarzenegger has clearly enjoyed himself in politics. Even if he has lost some of his luster at home, he still regularly uses his star power to make headlines on foreign trips representing California.
And he insists that it is all he is focused on for the moment, telling an interviewer earlier this year, when asked about his post-governor plans: "We continue on, and we sprint through the finish line.
"I don't allow myself to (think) about next year or about my future because... right now it's about now and getting things done, serving California," he told ABC television.
Whatever he does, he insists his wife Maria Shriver will get a say this time -- in contrast to 2003 when he told the media he was going to run for governor before telling Shriver, a niece of former president John F. Kennedy as well as a journalist and author.
"Before I make any move, the next move that I make, I'm going to go and say to Maria: 'Maria, you tell me what to do'," he told a Fox interviewer.