Many witnesses saw a Philippine politician order and participate in an election-linked massacre that claimed at least 57 lives, Justice Secretary Agnes Devanadera said Friday.
"One of the witnesses said he was the one who was ordering them," Devanadera told the GMA television network, referring to Andal Ampatuan Jnr, a mayor in the southern Philippines who surrendered to authorities on Thursday and who is now claiming innocence.
Witnesses also saw soldiers and policemen participate in the election-linked killing, Devanadera added.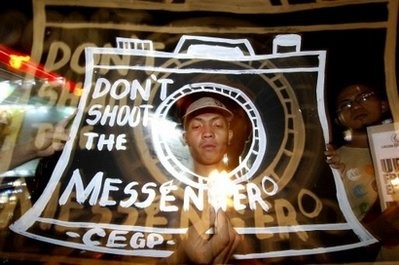 An activist at a rally near Manila denouncing the massacre in the southern Philippines, that left 57 people dead, 22 of them were believed to be journalists
The claims come after authorities took Ampatuan Jnr into custody while implementing sweeping security measures. Ampatuan Jnr has insisted he did not orchestrate the horrifying killings in his home province of Maguindanao, where his family has been a dominant political force for decades. Related article: Top suspect blames rebels for massacre
"There is no truth to that," he told reporters at an airport in General Santos, a major city in the south, when asked whether he was behind the murders.
It was his first public comment since the massacre and came after he peacefully surrendered at his Maguindanao mansion, from where he was flown by helicopter to General Santos en route to meet investigators in Manila.
Devanadera told reporters that an announcement could be expected by the weekend on whether charges would be laid against him.
Philippine government officials had been negotiating since Tuesday with Ampatuan's family for him to submit to questioning.
The massacre occurred after about 100 Ampatuan gunmen allegedly abducted a convoy of aides and relatives of a rival politician, Esmael Mangudadatu, plus a group of journalists.
The victims were snatched as they were travelling in a six-vehicle convoy to nominate Mangudadatu as the opposition candidate for provincial governor in next year's national elections.
They were shot a short time later and dumped or buried in shallow graves on a remote farming road close to a town bearing the Ampatuan name.
Fifty-seven bodies have been recovered so far, nearly half of them believed to be those of reporters, making it the deadliest attack ever on journalists.
Ampatuan Jnr is the son of Maguindanao's governor, a Muslim clan chief of the same name who until this week was a close ally of President Gloria Arroyo's ruling coalition.
Maguindanao is part of the lawless Mindanao island, where Muslim clans rule vast areas backed by their own private armies, often out of the national government's control.
Ampatuan Snr had been grooming his son, currently a local mayor, to take over as governor of Maguindanao. The victims' relatives alleged the Ampatuans organised the murders so that Mangudadatu would not run for that post.
Highlighting the extensive reach of the Ampatuans throughout the power structure of Maguindanao, Interior Secretary Ronaldo Puno said Thursday more than 300 policemen or government militiamen there had been taken into custody.
Puno said he had also recommended to Arroyo that all provincial officials, including Ampatuan Snr, be suspended and that the father be investigated for any links to the murders.
He said the national authorities had not been able to act as quickly as many wanted because local police and soldiers were suspected of being loyal to the Ampatuans.
"It was very difficult for us to rely on the local military and police forces to carry out the directives of the central headquarters on both the armed forces and police side," he said.
National police chief Jesus Verzosa told reporters he would ask the national government to be allowed to replace the entire police force of Maguindanao.
And despite more than 1,000 extra soldiers being sent into Maguindanao to restore order, the military said most of the Ampatuan family's militiamen alleged to have carried out the massacre were still on the run.
"Most of the armed group that perpetrated this crime have run away towards the mountainous area of Maguindanao," military spokesman Lieutenant Colonel Romeo Brawner said on ABS-CBN television.
"That is where we are conducting our pursuit operations."
The ruling Lakas Kampi CMD coalition late on Wednesday expelled both Ampatuans from the party.
Ampatuan Jnr's brother, Zaldy, governor of an autonomous region on Mindanao that includes Maguindanao, was also expelled.