A toothless England were facing their critics Saturday after being held to a goalless draw by Algeria which left their hopes of World Cup survival hanging in the balance.
Fabio Capello's England, already under pressure after their 1-1 opener against the United States, struggled to find a way past the Algerians and gave their critics more ammunition with a bleak performance in Cape Town.
British newspapers led the attack Saturday with striker Wayne Rooney's form causing particular concern.
"What a load of Roobish!" said the Daily Mirror, while the Guardian's verdict was: "No spark, no spirit, no hope".
"There can be no excuses, this was as bad as it gets," said the Sun, which had little sympathy for Rooney's complaint about being booed off the pitch by fans at the end of the match.
"Woeful England at point of no return" was the headline in The Times.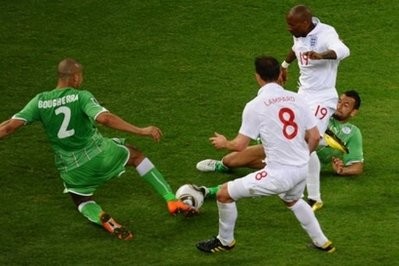 England midfielder Frank Lampard lends support as an outnumbered Jermain Defoe (2ndRt) tries to get past Algerian defenders Rafik Halliche (R) and Madjid Bougherra (L) during their Group C first round 2010 World Cup match on June 18, at Green Point stadium in Cape Town.
Tipped as one of the favourites at the start of the tournament, England must now defeat Group C leaders Slovenia in their last game on Wednesday in Port Elizabeth to be sure of reaching the second round.
Fabio Capello was at a loss to explain why a team which sailed through qualification for the World Cup is misfiring in South Africa.
"This is not the team I recognise from training or from qualifying," he said.
"We missed too many passes, lost too many balls. It was not a good game. We have to do better.
"We have another game to play. It's our last chance to continue in the tournament. The players know what they have to do."
The big news ahead of the game was the dropping of goalkeeper Robert Green after his blunder against the USA, with David James taking over, but all England's problems on Friday came from their inability to threaten the Algerian goal.
Algerian goalkeeper M'bohi Rais Ouheb had little to do, as England captain Steven Gerrard acknowledged.
"We're not happy with the performance, we need more if we want to stay in this tournament to the later stages, we need to improve," he said.
There was far more entertainment in Slovenia's 2-2 draw with United States earlier in the day which leaves the Balkan nation top of England's Group C with four points, two ahead of Capello's side.
But Slovenia will be kicking themselves after easing into half-time 2-0 up in Port Elizabeth thanks to goals by midfielder Valter Birsa and striker Zlatan Ljubijankic.
A victory would have guaranteed the Slovenians a place in the second round, but the Americans fought back through goals by Landon Donovan and Michael Bradley, son of US coach Bob, to grab a 2-2 draw.
Germany had earned rave reviews in thrashing Australia 4-0 in their opening match, but a rugged Serbia beat them 1-0 with a goal scored just a minute after German striker Miroslav Klose was sent off for a second yellow card.
Serbia's Milan Jovanovic beat Manuel Neuer from close range after the goalkeeper had been caught out by a deep cross that the giant Nikola Zigic headed back.
The woodwork foiled Germany on the stroke of half-time and Lukas Podolski had a weakly-struck second-half peanlty saved on a dreadful day for the three-time world champions.
Coach Joachim Loew reflected: "We had a lot of problems, the yellow cards for Klose, they got the first goal, then we failed to score from the penalty spot. "It was difficult to come to terms with all this."
After turning around their fortunes following an opening defeat to Ghana, Serbia's delighted boss Radomir Antic said: "This is a victory for our people who will know how to celebrate it."
Australia confront Ghana in Rustenburg on Saturday and a win for the Socceroos would leave all four countries in Germany's Group D on three points going into the final series of group matches next week.
Germany face Ghana in their last group match on Wednesday, when Serbia take on Australia.