US raid near the Iraqi city of Baquba on Friday killed at least 25 people the American military said were "criminals" but Iraqi officials said women and children were among the dead.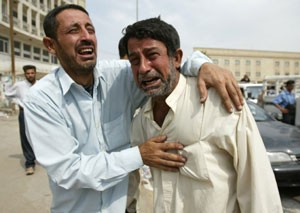 Iraqi relatives cry near a pick truck (unseen) carrying bodies of victims of a US air raid on the village of Al-Jayzani, near Baquba, northeast of Baghdad, Oct. 05, 2007.
A US military statement said a strike targeted an Iranian-linked commander believed to be smuggling weapons across the border from Iran, accused by the Americans of fuelling the sectarian conflict in Iraq.
US aircraft killed the insurgents and destroyed two houses after a heavy firefight near Baquba, 60 kilometres (35 miles) north of Baghdad, during which rebels fired rocket-propelled grenades, it said.
Iraqi police spokesman Khudhayir al-Timimi said civilians were among the dead and wounded in a US air raid on Al-Jayzani village northwest of Baquba, which appeared to be part of the same military operation.
"Twenty-five people were killed and 40 others wounded, including women and children in the US air strike that targeted Al-Jayzani," Timimi told AFP.
An Iraqi defence ministry official earlier said at least 17 Iraqis including women and children were killed, 27 wounded and eight missing.
Witnesses said US helicopters attacked Jayzani, near the mainly Shiite town of Al-Khalis, at around 2 am (2300 GMT), destroying at least four houses.
An AFP photographer saw at least four trucks, each carrying several bodies from Jayzani, being driven through Baghdad to the Shiite holy city of Najaf for burial. One of the dead was clearly an elderly man.
Ahmed Mohammed, 31, said he had travelled with 15 wounded from the area to the Medical City Hospital in Baghdad.
"There are 24 bodies on the ground in the village and 25 others wounded in Al-Khalis hospital," he told AFP.