The World Bank on Wednesday upgraded its 2009 economic growth forecast for China to 8.4 percent on the back of huge public spending but warned stronger domestic demand was needed to ensure a sustainable recovery.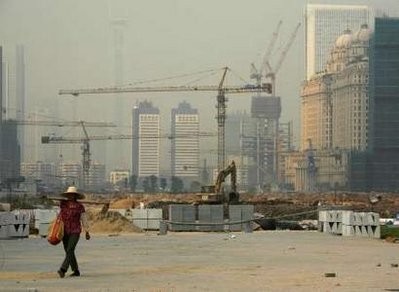 A worker walks past a construction site at the Central Business District of the southern Chinese city of Guangzhou in Guangdong province October 27, 2009.
The new prediction given by the Washington-based lender in its quarterly update marked a sharp jump from its June forecast for 7.2 percent growth.
Economic growth in the Asian giant would "rise somewhat" in 2010, it added.
"In spite of a large drag on growth from exports amidst the global recession, China's economy continues to grow robustly because of expansionary fiscal and monetary policies," the bank said in the report.
"Infrastructure investment has been key but consumption has also held up well. More recently, real estate activity has been recovering as well."
The upgrade by the World Bank follows similar moves by the International Monetary Fund and Asian Development Bank after the rapid turnaround in the world's third largest economy caught economists somewhat by surprise.
The World Bank said China was "on track" to reach Beijing's oft-stated goal of eight percent growth this year -- seen as vital for job creation and warding off social unrest in the country of 1.3 billion people.
But it warned a "successful rebalancing" of the economy was needed to ensure a sustainable recovery in the medium term.
"Rebalancing and getting more growth out of the domestic economy call for more emphasis on consumption and services and less on investment and industry," the bank said.
China grew by 8.9 percent in the third quarter -- the fastest pace in a year -- after expanding by 7.9 percent in the second quarter and 6.1 percent in the first three months, the slowest pace in more than a decade.
The recovery has been driven by a four-trillion-yuan (586-billion-dollar) stimulus package unveiled a year ago and a record 8.67 trillion yuan in bank lending in the first nine months of 2009.
China was expected to grow in 2010 even as public spending slowed, the bank said, as demand for Chinese-made goods overseas picked up.
"In 2010 the composition of growth is likely to change ... Exports will probably stop being a drag on growth from end-2009 onwards and real estate investment looks set to be stronger," the bank said.
"However, government-influenced investment, the key driver of growth this year, is bound to decelerate (and) market based investment is likely to continue to feel negative pressure from the significant spare capacity in many manufacturing sectors."
"In all, we expect GDP growth to rise somewhat in 2010, with risks evenly balanced."
The bank said it saw no need yet for macroeconomic policies to be tightened while risks and uncertainties in the global economy remained high.
"Underlying inflation is not a concern for now. A somewhat supportive policy stance is appropriate, and it is particularly important to have flexibility to add or subtract support if needed," the bank said.