The World Bank said Tuesday China's economy will grow by just 7.5 percent in 2009, the lowest level in 19 years, as global markets for the nation's once seemingly unstoppable export machine dry up.
The forecast, made in the World Bank's quarterly update on China, is down from a previous estimate of 9.2 percent, and would be the fourth lowest growth rate in the country since the launch of reforms three decades ago.
The last time China's economy saw a similar slowdown was in 1990 -- amid international isolation following the Tiananmen massacre the year before -- when it grew by a mere 3.8 percent.
"The prospects of the world economy are much weaker than six months ago," Louis Kuijs, a World Bank senior economist, told a briefing in Beijing.
"But in addition to that, the deceleration domestically has been more pronounced."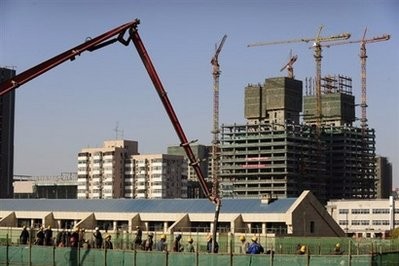 Construction workers at a building site in Beijing in early November
Weakness in the housing sector is a major factor weakening the domestic side of the Chinese economy, he said.
This year, China's economy is likely to grow by 9.4 percent, the World Bank said in its report. In its previous quarterly update, it had predicted 9.8 percent growth for 2008.
That will mark the first time China's economic growth has shrunk below double digits since 2002, and will be well down from 11.9 percent recorded last year.
China is already on track to see its trade surplus decline in 2008, and the year 2009 could be little better, the World Bank indicated.
Overall imports by all economies in the world will contract next year for the first time since 1982, it predicted.
"We are going to see coordinated recessions in the United States, Japan and Europe, which creates quite a difficult environment for developing countries," said David Dollar, the World Bank country director for China.
China routinely says it needs annual growth of at least eight percent to create enough employment for the millions of job-seekers hitting the market every year.
Cutting unemployment is a key objective of a four-trillion-yuan (590-billion-dollar) stimulus package the government recently announced, but it can only do so much, the World Bank said.
"One of the key objectives (of the stimulus plan) is to mitigate this, to cushion the blow over here," said Kuijs.
"It's not going to be possible to totally offset all these shocks to the economy."
Among the victims of the global slowdown will be China's 800 million rural dwellers, who could see some recent gains erased, Dollar warned.
"Rural real incomes have been going up by more than 10 percent per year, and there's been very substantial poverty reduction in the Chinese countryside," he said.
"So this global economic recession does create some risks that those gains will backslide."
In particular, China's countryside could see challenges if millions of migrant workers return from the cities, Dollar said.
"Of course if too many people go back into that economic environment, that can create some problems," he said.