WASHINGTON, March 17, 2009 (AFP) - The World Bank Tuesday slashed China's economic growth forecast to 6.5 percent in 2009 but said the Asian giant was resisting the global economic firestorm with solid fundamentals.
"As the global crisis has intensified, China's exports have been hit badly, affecting market-based investment and sentiment, notably in the manufacturing sector," the World Bank said in releasing a quarterly report on China's economy.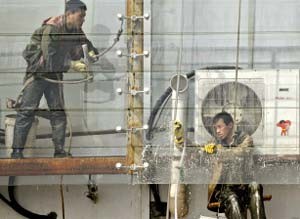 Two workers clean the glass facade of a building in Beijing on March 17, 2009. China has made plans to inject more money into its economy if needed, Premier Wen Jiabao said at a press conference of the annual National People's Congress (Photo: AFP)
In sharply lowering its previous 7.5 percent growth estimate for the Asian giant, the World Bank noted it followed recent downward revisions for global gross domestic product (GDP) growth in 2009.
According to the latest World Bank global forecasts, published in December, the world economy would expand at a weak annual rate of 0.9 percent in 2009, with a 0.1 percent contraction in developed economies offset by growth in developing countries of 4.5 percent.
A Chinese government think tank this month forecast first-quarter growth would slow to 6.5 percent from a 6.8 percent pace in the fourth quarter last year.
"China is a relative bright spot in an otherwise gloomy global economy," said the World Bank's country director for China, David Dollar.
"Shifting China's output from exports to domestic needs helps to provide immediate stimulus while laying the foundation for more sustainable growth in the future."
The World Bank said that China's banks "have been largely unscathed" in the global financial turmoil that accelerated after the collapse of US investment bank Lehman Brothers in September.
"The economy still has plenty of space to implement forceful stimulus measures," said the Washington-based development lender.
Chinese Premier Wen Jiabao said last week that China has made plans to inject more money into the economy, admitting the global crisis was making this year's growth target of about 8.0 percent hard to achieve.
The Chinese government unveiled an unprecedented four-trillion-yuan (580-billion-dollar) stimulus package in November.