South African police took control of security at reigning champions Italy's opening World Cup match, after stewards walked out in a spiralling dispute over pay.
The strike came only hours after stewards providing security at Durban's World Cup stadium, which are employed by the same private security company, clashed with riot police in a protest over their wages.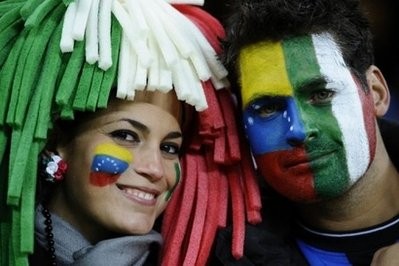 Supporters cheer prior to the start of the Italy vs. Paraguay match on June 14, 2010 at Green Point stadium in Cape Town.
The dispute is a major embarrassment for organisers who also had to find alternative transport for nearly 1,000 supporters stuck at Johannesburg's showpiece Soccer City stadium when bus drivers staged a wildcat strike.
"Although we have respect for workers' rights, we find it unacceptable for them to disrupt match day proceedings and will not hesitate to take action in such instances," said organising committee chief executive Danny Jordaan.
A police spokesman confirmed several hundred stewards had gone on strike.
"They were asked (by management) to leave the stadium. They have left the stadium," Cape Town police spokesman Billy Jones told AFP. "The police and the metro police are doing the job here."
The walk-out came barely three hours before Italy began the defence of their crown with a rain-soaked 1-1 draw against Paraguay at Cape Town's brand new 575-million-dollar (470-million-euro) Green Point stadium.
The match kicked off on time after the 63,000-strong crowd passed through the police-operated security scanners.
After a triumphant opening confounded scepticism about South Africa's ability to host the World Cup, the tournament's problems are mounting.
Police fired rubber bullets and stun grenades to break up the Durban protest by around 400 stadium staff angered by what they said was a pay cut from 250 rand (33 dollars) to 190 rand per day.
Some of the protesters returned to the stadium during the day in a bid to negotiate with their employers but the impasse remained.
"They told us that if we're not happy, we can give our uniform back," said one steward who declined to give his name.
A spokesman for the organising committee said a meeting was being set up between private security firm Stallion and workers to resolve the dispute.
A spokesman for Stallion said workers had been "misled" by jealous commercial rivals that did not get the tender.
The tournament also faced negative headlines over ranks of empty seats spotted at some of the less glamorous ties over the weekend.
Around 8,000 seats were empty during Saturday's match between South Korea and Greece, while there were also gaping holes at Monday's game in the central city of Bloemfontein where Japan beat Cameroon 1-0.
Most of the empty seats at Port Elizabeth had been sold to corporate clients who had just not turned up.
"Of course it is not nice to see empty seats at a World Cup stadium," said FIFA spokesman Nicolas Maingot. "You cannot draw conclusions after eight games."
In contrast, the match between the Netherlands and Denmark at Johannesburg's showpiece Soccer City stadium appeared full to the rafters. Supporters tried desperately to find tickets off touts for a match the Dutch won 2-0.
Around 1,000 fans who did get into the game had to find alternative transport from the stadium after drivers of a special high-speed bus service went on strike after dropping them off.
The fans were given free train rides back into the city or had other buses sent to bring them back.
The drivers ended their strike and service returned to normal Tuesday, an official said.
"The buses are running normally," said Lisa Seftel, the city's transport boss. "We reached an agreement with them last night."
Japanese fans who had gathered in Bloemfontein dressed up in samurai outfits and took photos of themselves with their counterparts from Cameroon, while practicing on the vuvuzela trumpets that are driving some players mad.
Portugal's Cristiano Ronaldo was the latest star to voice unease about the trumpet, telling reporters it affected players' focus.
But FIFA president Sepp Blatter said there was no chance of them being shown the red card.
"I don?t see banning the music traditions of fans in their own country. Would you want to see a ban on the fan traditions in your country?" he wrote on Twitter.