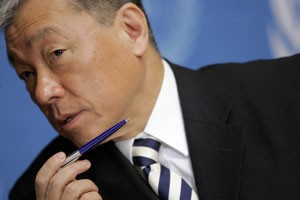 Mr. Lee Jong-wook
  Lee Jong-wook, the director-general of the World Health Organisation (WHO), has died after an emergency operation over the weekend, the UN agency confirmed at the opening of its annual assembly Monday.
   Spanish health minister Elena Salgado, who is chairing the assembly, made the announcement to the hushed gathering of ministers and senior officials from 192 countries.
    Lee, 61, was rushed to the hospital Saturday and underwent an emergency operation on Sunday to remove a blood clot in the brain. He died at 8:00 am (0600 GMT), Yonhap news agency said.
   Lee, who was elected to lead the UN health agency in 2003 for a five year term, is survived by his wife Reiko Karabuki and a son, Yonhap said.
   Lee's death came as the WHO prepared to open its annual assembly Monday, involving 100 health ministers from around the world.
   Born in Seoul, Lee received a medical degree from Seoul National University and a master's degree in public health from the University of Hawaii.
   He worked for 19 years at the WHO before becoming director general.
 Source: AFP