UNITED NATIONS, Sept 19, 2010 (AFP) - World leaders kick off a summit on Monday to hammer out new ways to meet ambitious targets set a decade ago to cut poverty, millions of avoidable deaths and improve equality by 2015.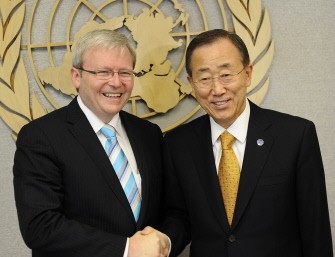 UN Secretary General Ban Ki-Moon (R) meets with Australian Foreign Minister Kevin Rudd at the UN headquarters in New York, September 19, 2010. AFP
US President Barack Obama, President Nicolas Sarkozy of France, Chinese Premier Wen Jiabao and Iran's President Mahmoud Ahmadinejad are among the leaders who will put rival plans to get the badly behind schedule Millennium Developments Goals (MDGs) back on track.
Most experts say it will be impossible to meet any of the goals, which range from cutting the number of people in extreme poverty by half and the number of children who die before reaching five by two thirds, to fairer trade and spreading the internet to the world's poor.
UN Secretary-General Ban Ki-moon says more money and political will is needed to give new life to the MDG campaign.
The European Union is expected to announce one billion dollars of MDG funds and the World Bank 750 million dollars for education, according to aid groups.
That still leaves more than 120 billion dollars to be found over the next five years. And the financial crisis has undermined much of the global community's ability to find new funds.
"I know there is skepticism but this MDG is a promise, a blueprint, by the world leaders to lift billions of people out of poverty. This must be met and delivered," Ban said in an interview with AFP ahead of the summit.
Leader after leader of the main UN agencies have painted the same grim picture however.
UNESCO Director-General Irina Bokova has called for a new commitment to education and gender equality -- Millenium Goal number three.
"The advances made in improving girls' and women's access to education and training over the past decades risk being undermined by reductions in international aid and national investments as the world struggles to cope with interlocking crises," Bokova said.
"Yet, we all know that compromising the education of girls and women will only lead to more vulnerability and reinforce the vicious cycle of poverty."
Proposals to change strategy to make up the delays and shortfalls and even taxes on plane tickets, the Internet, mobile phones and financial transactions are to be discussed at the summit at UN headquarters.
French President Sarkozy is expected to press his calls for a tax on banks to help pay for development.
Obama is due in New York on Wednesday, delivering remarks at the closing session of the summit.
The 140 heads of state and government at the MDG summit plan to make a solemn declaration on the importance of the goals, which also aim to reach universal primary education, halt the spread of AIDS and take major steps to empower women.
But the main summit document acknowledges that the financial crisis has increased inequality and vulnerability in the world and halted progress made after the 2000 Millennium summit.
The UN chief says he is confident this week's meeting will "mobilize billions of dollars."
He is counting on help from big business, Bill Gates-style philanthropy and charities to help out the governments.
Ban also admitted that some of the targets may be left after 2015.
He is making maternal and child health the priorities in the last five years. They are, he said, "the slowest moving goals" of the Millennium.
Ahmadinejad is scheduled to speak at the summit on Tuesday, the same day that foreign ministers from Britain, China, France, Germany, Russia and the United States meet to discuss how to further address Iran's nuclear drive.
The Iranian leader's annual trip to New York is again surrounded with tight security for his highly controlled outings.
NATO and EU foreign ministers also plan to hold a meeting on the summit sidelines on Tuesday.