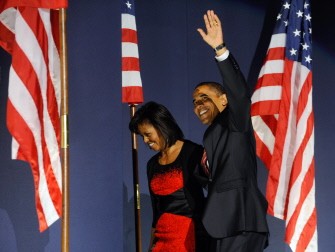 US President-elect Barack Obama and his wife Michelle walk on stage during his election night party at Grant Park in Chicago, Illinois, November 4, 2008
World leaders hailed Barack Obama's triumph in the US presidential election as the dawn of a new era and called for the global superpower to change the way it does business.
As Obama's supporters celebrated around the world, a national holiday was declared in Kenya -- where his father was born -- and in Sierra Leone, six newborn babies were even named after the president-elect.
Nothing could stop the wave of optimism that spread out from the United States after Obama's triumph over Republican rival John McCain made him the first African-American to win the White House.
South Africa's iconic first black leader Nelson Mandela wrote in a message to Obama: "Your victory has demonstrated that no person anywhere in the world should not dare to dream of wanting to change the world for a better place.
"We wish you strength and fortitude in the challenging days and years that lie ahead," he added.
Kenyan President Mwai Kibaki declared a national holiday on Thursday to mark the victory of Obama, whose late father was from Kenya.
"This is a momentous day not only in the history of the United States of America, but also for us in Kenya," he said.
Pope Benedict XVI sent a telegram of congratulations to Obama to hail the "historic occasion."
French President Nicolas Sarkozy extended his "warmest congratulations" to the 47-year-old Democratic senator. "By choosing you, the American people have chosen change, openness and optimism," added Sarkozy.
British Prime Minister Gordon Brown welcomed the victory as a historic moment.
Australian Prime Minister Kevin Rudd referred to US civil right leader Martin Luther King's landmark "I have a dream" speech for equality 45 years ago. "Today what America has done is turn that dream into a reality," he said.
World leaders vowed to work with the man elected to succeed US President George W. Bush.
"In a new historical era, I look forward to ... taking our bilateral relationship of constructive cooperation to a new level," China's President Hu Jintao said in a written message.
European Commission President Jose Manuel Barroso said in a statement: "This is a time for a renewed commitment between Europe and the United States of America."
Japanese Prime Minister Taro Aso also pledged to work with Obama to strengthen relations, while Indian Premier Manmohan Singh called it an "extraordinary" victory.
Russian President Dmitry Medvedev, who was himself elected president in March, called for "constructive dialogue" in a message to Obama.
Earlier, however, in his first state-of-the-nation address, he announced that short-range Iskander missiles would be based in the western territory of Kaliningrad to "neutralise" US missile defence plans.
In Iraq, Foreign Minister Hoshyar Zebari said Obama's election would not lead to a quick US disengagement from the war-torn country.
Israel's outgoing Prime Minister Ehud Olmert said he was certain US-Israeli ties would strengthen under Obama.
Jordan's King Abdullah II, a key US ally in the troubled Middle East, sent Obama a cable saying he looked forward to cooperation with Washington to "resolve the Palestinian-Israeli conflict in line with a two-state solution."
After eight years of tense relations with the Bush administration, Washington's archfoes called for a new era of relations under Obama, who has pledged to hold direct talks with US enemies.
Iranian Foreign Minister Manouchehr Mottaki, whose country is in a standoff with the West over its nuclear program, said the result showed that Americans wanted "basic changes in US foreign and domestic policy."
"We hope the new US government can fulfill its people's demand to distance itself from the present statesmen's wrong approaches," he said, the official IRNA news agency reported.
Venezuelan President Hugo Chavez, a vociferous critic of the Bush administration, called for new relations "between our countries and with our region, on a basis of respect of sovereignty, equality and true cooperation."
Cuba's Foreign Investment Minister Marta Lomas expressed hope that Obama would ease the four-decade-old embargo on the communist state.
"If Obama takes some action to ease the embargo, it would be welcomed and of course it would be of help, but we're prepared for conditions to remain the same," she said.