World leaders condemned the assassination of Benazir Bhutto but urged Pakistan to keep to the democratic path, as the country prepared for the funeral of the opposition leader on Friday.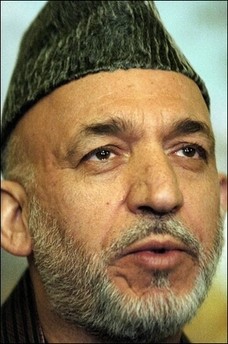 Afghan President Hamid Karzai addresses a press conference at the Presidential palace in Kabul, 27 December 2007. World leaders expressed outrage at the assassination of Pakistani opposition leader Benazir Bhutto on Thursday, condemning it as a frontal attack on democracy in the Islamic republic.(AFP/Shah Marai) (AFP/File/Behrouz Mehri)
Condemning the "cowardly" suicide attack that killed her on Thursday, US President George W. Bush urged Pakistanis "to honor Benazir Bhutto's memory by continuing with the democratic process for which she so bravely gave her life."
Bhutto, a two-time former prime minister and head of Pakistan's most powerful political party, was shot in the neck by her attacker before he blew himself up at a political rally in Rawalpindi, killing at least 20 people.
Pakistani television network ARY said Friday that Al-Qaeda had claimed responsibility for Bhutto's assassination.
It was the second suicide attack targeting Bhutto, 54, since she returned from eight years of self-imposed exile in October. The first killed 139 people.
United Nations Secretary General Ban Ki-moon described Bhutto's assassination as a "heinous crime" that "represents an assault on stability in Pakistan and its democratic processes" ahead of elections set for January 8, which Bhutto's party had been tipped to win.
The UN Security Council emerged from an emergency session on the killing with a statement condemning "this heinous act of terrorism".
Shockwaves from the assassination jolted oil prices past 97 dollars a barrel and rattled stock markets in the United States and across Asia.
Pakistan's neighbours, fearing an extremist spill-over if nuclear-armed Pakistan were to spiral out of control, were quick to respond.
Indian Prime Minister Manmohan Singh said Bhutto's killing was a reminder of the "common dangers" faced by India and Pakistan.
"Mrs. Bhutto was no ordinary political leader but one who left a deep imprint on her time and age," he said.
Afghan President Hamid Karzai, who met Bhutto only hours before her death, called the assassination an act of "immense brutality" against one of the Muslim world's leading women.
"I am deeply sorry, deeply pained that this brave sister... this great daughter of the Muslim world is no longer with us," he said.
Bangladesh, once known as East Pakistan, condemned the "barbaric act."
"This brutal assassination, underlines the need for the absolute commitment to fight against terrorism in all its forms and manifestations, in order to make it unacceptable in civilized society," the Sri Lankan government said.
Reactions were also strong in east Asia.
Chinese foreign ministry spokesman Qin Gang said his country was "shocked ... and strongly condemns the terrorist attack."
That sentiment was echoed by Cambodian Prime Minister Hun Sen who called the assassination a "cowardly terrorist act."
Japan also condemned Bhutto's killing, but expressed "hope the Pakistani government and people would overcome this hardship and firmly pave the way towards democratisation."
"This assassination is an evil act, it's a cowardly act, it's an act which has brought about universal condemnation from around the world and deservedly so," Australian Prime Minister Kevin Rudd told reporters.
Indonesia's President Susilo Bambang Yudhoyono called Bhuto's murder "a severe blow to Pakistan's democratic process" and expressed his hope that "the law be upheld and democracy be respected in Pakistan."
"Whoever perpetrated it, this attack is an assault on democracy," said Philippines President Gloria Arroyo, calling for "solidarity against such mindless barbarity and unwavering defense of peace, freedom, law and order."
South Korea expressed hope that "Pakistan will be stabilised through peaceful means."
Reactions were equally strong throughout the Muslim world.
Turkey, a close ally of Pakistan, urged Islamabad not to stray from the path of democracy and said the killing "undoubtedly aims to draw Pakistan into chaos and instability."
In the United Arab Emirates, where Bhutto lived in exile for some years, Foreign Minister Sheikh Abdullah bin Zayed al-Nahayan said "the UAE has been tormented by this huge loss."
Iran urged authorities to track down the "terrorists" responsible, while in neighbouring Iraq President Jalal Talabani called on the world to unite against the "cancer of terrorism".
The 57-nation Organisation of the Islamic Conference, the largest pan-Islamic organisation, condemned "the outrageous and brutal murder" and the 22-member Arab League called it a "heinous terrorist crime".
In Europe, British Prime Minister Gordon Brown said Bhutto was "assassinated by cowards afraid of democracy", while German Chancellor Angela Merkel labelled it a "cowardly terrorist attack" designed to destabilise Pakistan.
Russian President Vladimir Putin said he hoped "the organisers of the crime will be found and that they get the punishment they deserve".
Don McKinnon, secretary-general of the 53-nation Commonwealth of which Pakistan is a suspended member, told AFP: "This is just horrible... This has thrown the whole issue of Pakistan politics into a field of uncertainty."