World stock markets aimed higher on Tuesday before a widely-expected sharp cut in US interest rates as the Federal Reserve seeks to ease the global credit crisis that sank Bear Stearns, dealers said.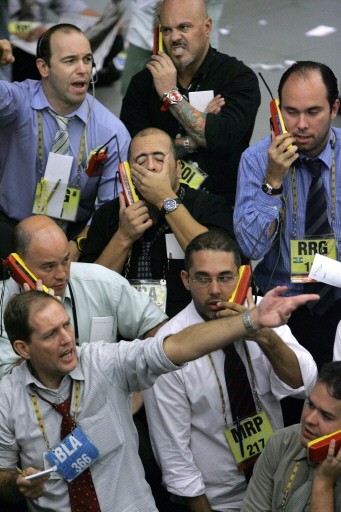 Brazil's stock traders negotiate in the iBovespa future index pit during the morning session at the Mercantile & Futures Exchange (BM&F), in Sao Paulo, Brazil, on March 17, 2008. (AFP Photo)
There were growing fears that even a hefty rate cut of up to one percentage point might not be enough to ease the gridlock in the US financial system and ward off the spectre of a US recession, they said.
In European morning deals, London jumped 1.99 percent, Frankfurt gained 1.91 percent and Paris won back 1.43 percent.
All three markets had plunged Monday by around 3.5-4.0 percent as investors dumped equities on fears of a ballooning credit crisis following the emergency sale of troubled US investment bank Bear Stearns, dealers said.
In Asia on Tuesday, many markets rallied after the Dow Jones Industrial Average ended slightly higher in New York in volatile overnight trading.
Tokyo rallied 1.5 percent as bargain hunters emerged a day after the index plunged by 3.7 percent. Hong Kong finished 1.42 percent higher and Seoul rebounded 0.9 percent.
In commodities markets, oil prices retreated from record highs of almost 112 dollars and gold also traded down amid worries that demand for raw materials could be hit if financial market turbulence results in slower economic growth.
"It's got the potential to be another choppy day," said CMC Markets trader Claire Collingwood in London on Tuesday.
"There's likely to be a lot of caution in the market but (the) Fed verdict is also going to be worth watching as a significant (cut) in rates is expected."
Investors however fear that the Fed may be running out of ammunition to ease the market turmoil that brought Wall Street's fifth largest investment bank, Bear Stearns, to its knees.
"We are experiencing a meltdown in financial markets and the market is aware of the risk that this will have deeper consequences than an economic slowdown," warned Sumitomo Mitsui Banking Corp's chief strategist Daisuke Uno.
The Fed has already slashed its key federal funds interest rate by 225 basis points to 3.00 percent since September to try to bolster the economy in the face of a US housing slump and related credit crunch.
The near collapse of Bear Stearns, which is being sold to JPMorgan Chase for a rock-bottom price, has sent shivers through global markets.
Persistent concerns remain over the true exposure of the global banking sector to the slumping subprime housing market in the United States.
US President George W. Bush said Monday that he expected the American economy to ride out the financial storm that is roiling the markets.
"The question is how the Fed is going to react on the backdrop of a looming recession and the danger of a systemic crisis," said Commerzbank analyst Gavin Friend.
"Our economists expect the Fed to cut rates by a minimum of 75 basis points today but see the risk that monetary policy could be loosened even by 100 basis points."
Friend said his house believes "a 50 basis points cut to be unlikely, as this would send equity markets tanking, which in turn would not be in the Fed's interest".
Other analysts warned that a steep cut of one percentage point could send a fresh wave of panic across Wall Street as investors could take such a move as a sign that the banking sector needs all the help it can get.
"A 100 basis points cut today could reinforce the perception that US monetary policy is in the hands of financial markets and give the impression of panic," said Barclays Capital's David Forrester, who is predicting a 75 basis point reduction.
"At the same time, it is becoming clear that cutting policy rates aggressively is unlikely to be sufficient to stem the sell-off in markets."
Major currencies took a breather ahead of the Fed decision, although sentiment toward the dollar remained negative, dealers said.
The European single currency stood at 1.5778 dollars, down from Monday's record high of 1.5905.
Markets were also waiting nervously for earnings results from US investment banks Lehman Brothers and Goldman Sachs later Tuesday, followed by Morgan Stanley on Wednesday, amid fears of fresh fallout from the credit crunch.
Elsewhere, Chinese share prices closed down almost 4.0 percent on Tuesday after Premier Wen Jiabao said taming inflation was a top priority, suggesting that more monetary tightening measures could be on the way, dealers said.