Asian stock markets tumbled Tuesday, with Hong Kong and South Korea down around 3 percent, after relentless fears about the financial system and world economy drove Wall Street to its worst finish in nearly 12 years. European shares opened lower.
Every major market shuddered from losses across a range of sectors, from banks to technology firms, exporters and commodities, wiping out solid gains from the previous day.
Tokyo's benchmark languished near a 26-year low as news that Nomura Holdings, Japan's biggest broker, will raise billions more in capital by selling shares added to worries about the financial sector.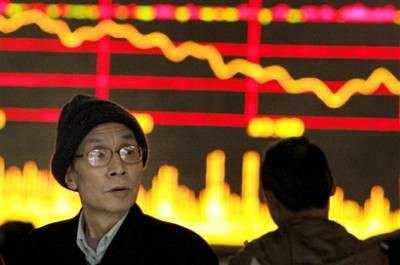 An investor looks at the stock price monitor at a private securities company Tuesday, Feb. 24, 2009, in Shanghai, China.
Most Asian bourses advanced strongly Monday on reports the U.S. government may take a greater stake in tottering financial giant Citigroup.
But concerns that Citigroup and other banks will keep suffering severe losses flared overnight amid pessimism about a quick economic recovery and doubts the government can return the reeling financial system to working order.
As the Obama administration tried to pacify fears, saying it would launch a revamped bank rescue program this week, U.S. investors hammered stocks. The Dow Jones and Standard & Poor's 500 indexes plummeted to their lowest closes since 1997.
"Investors are just selling out in disgust across the board — disgust with the market, disgust with the financial problems," said Lorraine Tan, director of equities research at Standard & Poor's in Singapore.
"The government seems to keep throwing in money, but there doesn't seem to be any end to the declines or solutions to the problems," she said.
European stocks fell in early trade, with Britain's FTSE 100 down 1.1 percent, Germany's DAX lower 2.4 percent and France's CAC 40 off 1.8 percent. Stock futures suggested Wall Street would rise modestly Tuesday. Dow futures were up 33, or 0.5 percent, at 7,149 and S&P500 futures rose 3.6, or 0.5 percent, at 748.30.
Earlier in Japan, Japan's Nikkei 225 stock average lost 107.60 points, or 1.5 percent, to 7,268.56, though selling eased somewhat as the government signaled it may prop up stock prices, possibly by buying shares with public funds. Nomura dived 9.3 percent.
Hong Kong's Hang Seng sank 376.58, or 2.9 percent, to 12,798.52, while South Korea's Kospi fell 3.2 percent to 1,063.88.
Mainland Chinese shares, among the year's best performers, got slammed, and the Shanghai benchmark plunged 4.6 percent.
Sentiment there also took a hit after China's central bank said the country's economic downturn could worsen and warned the risk of deflation is "quite big" amid collapsing consumer demand. The bank's report could temper expectations that China's slump might be bottoming out and a recovery might be taking shape,
Elsewhere, Australia's stock measure was off 0.6 percent, and Singapore's benchmark lost 1 percent.
Overnight, U.S. investors seemed unconvinced after regulators promised to ensure the viability of banks by providing capital and said they would start conducting "stress tests" on Wednesday to gauge the health of financial firms.
Amid the assurances, however, came more reports of financial gloom.