The World Health Organization (WHO) warned on April 6 that natural and man-made disasters are increasing worldwide, making it vital that countries invest in building hospitals and health facilities that can withstand earthquakes and other disasters.
As hospitals are critical lifelines in disasters, the WHO is dedicating World Health Day, on April 7, to the challenge of making hospitals, and other health facilities, safe in emergencies and ensuring that health workers are trained to treat injuries and care for those affected by emergencies.
This year's theme, 'Save lives. Make hospitals safe in emergencies,' has special significance in the Western Pacific Region, which has accounted for more than a quarter of the world's natural disasters in the past 10 years, with significant damage to health facilities.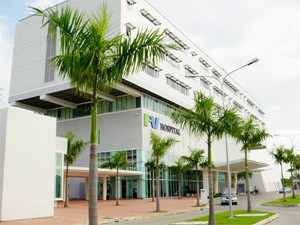 It is vital that countries invest in building hospitals and health facilities that can withstand earthquakes and other disasters
"In disasters and emergencies, health facilities are crucial to survival," said Dr Shin Young-soo, WHO Regional Director for the Western Pacific.
"Health facilities must be structurally resilient, well equipped and staffed, and with health workers who are properly trained to respond," he added
The Western Pacific Region, composed of 37 countries and areas, is highly vulnerable to disasters, such as tropical cyclones, floods, earthquakes and volcanic eruptions, as well climate change.
There are also emerging dangers, such as biological and chemical threats, armed conflict and terrorism, and environmental emergencies.
The World Disasters Report 2006 said that close to 185,000 people in the Western Pacific Region were killed by natural disasters from 1996 to 2005.
In Sichuan, China, a strong earthquake in May 2008 destroyed or damaged more than half of the province's 6800 hospitals, forcing tens of thousands of people to seek treatment elsewhere.
"Research shows that damage to health facilities can cost up to 60 percent of annual government health spending, so making facilities safe can sometimes be a means of actually saving money," said Dr Shin.
"Political will on the part of governments, leaders and hospital administrators is an important element in achieving this goal. They can ensure that hospitals are built in safe locations, that the design and construction of the facilities are sound and that staff are fully trained."
Studies have shown that retrofitting, reinforcement or other engineering interventions of health facilities is cost effective and can protect 90 percent of the value of the hospital.
A simple checklist can also be used to conduct a quick assessment of how safe hospitals are in emergencies and disasters. Hospital administrators and managers can perform this task without immediate help from engineers and architects.