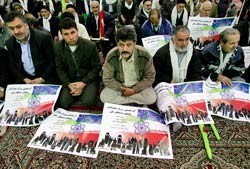 Iranian men attend a gathering of Iranian war veterans and families (Iran-Iraq 1980-88) to support their country's nuclear program (AFP Photo)
WASHINGTON
: The US government demanded that the international community act to prevent Iran from making nuclear weapons, with a senior official saying Tehran had already "crossed the international red line".
THE HAGUE: Former Croatian Serb leader Milan Babic, 50, who was accused of crimes against humanity perpetrated during the 1991-95 war in Croatia, committed suicide in the detention centre of the UN war crimes court in The Hague.
DUBAI: The supremo of the Palestinian radical group Hamas vowed to continue armed struggle against Israel and declared that the Palestinian Authority had accomplished nothing by recognising the Jewish state.
ISLAMABAD: Pakistani President Pervez Musharraf called neighboring Afghanistan's President Hamid Karzai oblivious to events in his own country, stepping up a war of words between the two US allies in the "war on terror."
LONDON: The takeover of British port operator P and O by Dubai Ports World became definitive here when the Court of Appeal denied permission to a US company to challege an earlier court ruling authorizing the acquisition.
BAGHDAD: President Jalal Talabani announced that Iraq's first permanent post-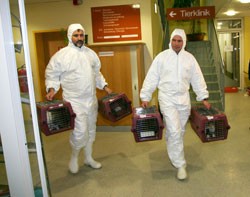 Men remove cats at the animal shelter Arche Noah in Graz 06 March 2006 (AFP Phto)
Saddam Hussein parliament would finally convene on March 12, as pressure mounted on Prime Minister Ibrahim Jaafari to quit.
ALEXANDRIA, Virginia: Confessed Al-Qaeda fighter Zacarias Moussaoui must be executed because his "lies" prevented the FBI from defusing the "ticking timebomb" of the September 11 attacks, prosecutors charged at the start of a sentencing trial.
VIENNA: Austrian officials confirmed the H5N1 bird flu was found in cats but said the felines had managed to fight off the virus, while world health experts prepared for the dread possibility of it mutating into a form capable of devastating humans.
TASHKENT: The head of Uzbekistan's main opposition movement was sentenced to more than 10 years in prison for economic crimes, a judge announced, after a trial.

AFP-SGGP