LONDON (AFP) – Revellers across Europe joined Asia in ringing in the New Year with firework spectaculars Saturday but the party was soured in Africa by deadly attacks.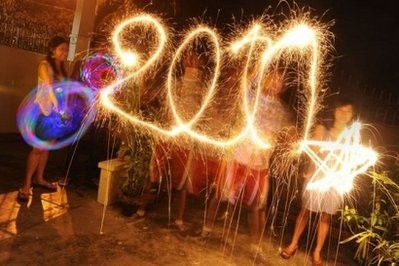 Residents use sparklers to welcome 2011 during the New Year's festivities in Manila on January 1, 2011. AFP
At world-famous landmarks like the London Eye, Berlin's Brandenburg Gate, the Champs-Elysees in Paris and Red Square in Moscow, hundreds of thousands went onto the streets to bid farewell to 2010 and welcome in 2011.
They joined in the wave of New Year celebrations that started in the Pacific Ocean and spread across Oceania, Asia and the Middle East before the clocks turned midnight across Europe from Moscow to Reykjavik.
For Estonia, the New Year also marked the switch from the former Soviet state's cherished kroon to the euro, becoming the 17th member state to adopt the European single currency.
But the party mood was spoiled in Africa.
In the northern Egyptian city of Alexandria, at least seven people died and 24 were injured in an attack on a church as worshippers left a service at around half an hour after midnight. Witnesses reported a burnt-out car outside.
And in Nigeria a bomb killed four and wounded 12 at a market inside the Abacha military barracks in Abuja, a popular spot for food and drink in the Nigerian capital on New Year's Eve.
In Europe, the London Eye was lit up by a colourful firework salvo as an expected 250,000 people crammed the River Thames embankments to see the show.
Meanwhile at Edinburgh's traditional Hogmanay street party, tens of thousands linked arms to sing "Auld Lang Syne" as fireworks exploded above the castle.
In Paris, an estimated 235,000 people were on the Champs-Elysees with a further 35,000 around the Eiffel Tower.