Sherpas, mountaineers and a grateful nation mourned Everest conqueror Sir Edmund Hillary at a state funeral Tuesday, more than half a century after he first stood on the roof of the world.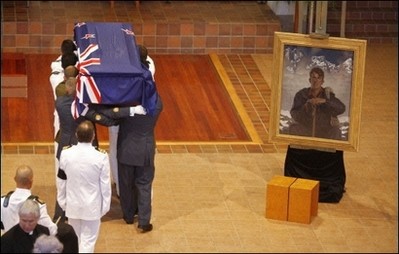 Edmund Hillary's coffin arrives at the Cathedral of the Holy Trinity in Auckland
Thousands of mourners packed the church in Auckland, lined the streets as his coffin was driven by or watched on giant screens across New Zealand to pay their last respects to a man Prime Minister Helen Clark called a colossus.

The funeral was beamed around the world, including Antartica where Hillary also led the first expedition to the South Pole by vehicle.

It was not, however, broadcast live in Nepal, contrary to earlier reports, because of the time difference.

At the start of the ceremony, Sherpa representatives laid Buddhist mourning scarves over the coffin, draped in a New Zealand flag and bearing the ice axe he used during his epic 1953 ascent.

Afterwards, the casket was borne out of the church through an honor guard of mountaineers, their ice picks held aloft in salute.

Pupils from Sir Edmund Hillary College performed a special Maori challenge, or haka, before the cortege drove to a private family cremation along streets lined with thousands of applauding bystanders.

Clark said Hillary, who died on January 11 of a heart attack at the age of 88, was "the most famous New Zealander of our times."

"Sir Ed described himself as a person of modest abilities," she added. "In reality he was a colossus, he was our hero.

"How privileged we were to have that living legend with us for 88 years."

She was among some 600 guests inside St Mary's church along with Hillary's widow June, son Peter and daughter Sarah, and the eldest son of the Nepalese guide who accompanied him on his Everest expedition.

"I think Dad was a real people's hero," Peter Hillary, a mountaineer in his own right who has twice scaled Everest, told mourners.

"He was real, he was the genuine article."

The Sherpa people from Nepal's Himalayan region reminded mourners that the lanky former beekeeper meant as much to them as to New Zealanders.

In the years after he and Sherpa Norgay Tenzing stood on the summit of the 8,848-metre (29,028-foot) peak on May 29, 1953, Hillary opened a foundation to build schools and medical facilities in the impoverished region.

The Himalayan Foundation built or supported 63 schools, two hospitals, a dozen medical clinics, bridges and miles of trails, and provided safe drinking water, said Norbu Tenzing Norgay, the eldest son of Hillary's companion.

It epitomized the true meaning of giving, Norbu said.

"His love and dedication towards the Sherpas was like a parent for a child, absolutely unconditional," he said.

"When the Sherpas heard the news of his death, their grief spiraled into mourning only comparable to the loss of a parent."

The head of the Himalayan Trust, Ang Rita Sherpa, described Hillary as "a man with a big heart" and a "second father."

"His loss for us is bigger and heavier than Mount Everest."

High-level political and diplomatic representatives from around the world joined in the funeral service in the wooden, gothic-style church alongside the four surviving members of the 1953 expedition.

No member of the British royal family was present, in what some New Zealand and British newspapers had labeled a snub, although a royal memorial service is due to be held for Hillary at Windsor Castle near London in April.

Hillary's feat has always been closely linked with Elizabeth II -- it was announced on the day of her coronation on June 2, 1953, and she knighted him soon after.

It is thought his ashes may be scattered on Auckland's Hauraki Gulf, after he said in one of his autobiographies that he would like to be "washed gently ashore maybe on the many pleasant beaches near the place where I was born.

"Then the full circle of my life will be complete."