BERLIN, Feb 4, 2009 (AFP) - Senior diplomats from six world powers met Wednesday for the first time under the new US administration to discuss Iran's nuclear ambitions, two days after Tehran launched its first satellite.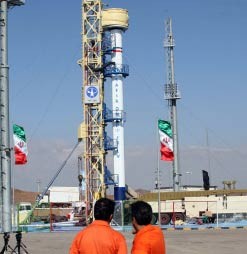 Iranian technicians look at an Iranian built Safir-type rocket that is designed to carry a satellite into orbit on a launch pad in an undisclosed location in Iran on Feb. 2, 2009 (Photo: AFP)
Political directors from the UN Security Council permanent members -- Britain, China, France, Russia and the United States -- plus Germany met in Wiesbaden near the western German city of Frankfurt, Berlin said.
The directors said in a joint statement afterwards that they had "welcomed the willingness of the US administration, as expressed by President (Barack) Obama, to engage in talks with Iran."
They emphasized their common commitment to a "diplomatic solution" and urged Iran to cooperate fully with the UN atomic agency, the Vienna-based International Atomic Energy Agency (IAEA), the statement said.
They also agreed that the US, represented in the talks by Under Secretary of State William Burns, would consult with them on the next steps as Washington continues a review of its policy towards the Islamic republic.
The get-together came two days after Iran set alarm bells ringing by launching a low Earth orbit satellite into space, technology the West fears Tehran could use in the future to carry nuclear warheads.
Iran insists its first home-built Omid (Hope) satellite, launched on Monday, has no military application, but Washington made clear it was unimpressed.
"This action does not convince us that Iran is acting responsibly to advance stability or security in the region," White House press secretary Robert Gibbs told reporters on Tuesday.
"Efforts to develop missile delivery capability, efforts to continue on an illicit nuclear program, or threats that Iran makes toward Israel and its sponsorship of terror are of acute concern to this administration," Gibbs said.
Although the directors are in constant telephone and email contact about Iran's nuclear program, Wednesday's meeting marks the first face-to-face gathering since Obama took office on January 20.
The West suspects Iran of secretly trying to build an atomic bomb but the Islamic republic says its nuclear program is for peaceful purposes and that it has the right to technology already in the hands of many other nations.
So far there has been a stick-and-carrot approach of applying sanctions on Iran whilst offering economic and energy incentives in exchange for not enriching uranium, used in either nuclear weapons or nuclear power.
Diplomatic ties between the United States and Iran have been frozen for three decades but Obama has vowed to map out a new future for their relations.
In an interview with Al-Arabiya satellite television network, Obama said last week that Washington would offer Iran an "extended hand" if Iran's leaders "unclenched their fist."
Obama's predecessor George W. Bush -- who famously declared Iran part of an "axis of evil" -- refused to talk to Tehran until it stopped sensitive nuclear fuel work.
The Obama White House has refused to rule out any options -- including military strikes -- to stop Tehran from acquiring a nuclear weapon.
Iranian President Mahmoud Ahmadinejad, having earlier congratulated Obama on his election, came out with a fiery speech last Wednesday, demanding that he apologize for "crimes" against Iran and "stop supporting the Zionists."
The issue is expected to figure highly in this weekend's Munich Security Conference, attended by US Vice President Joseph Biden as well as Iranian parliamentary speaker Ali Larijani.
German Foreign Minister Frank-Walter Steinmeier urged Tehran to "seize the chance" offered by Obama's readiness for direct talks, in comments published in Wednesday's Sueddeutsche Zeitung daily.
A foreign ministry spokesman told a news conference Wednesday that it would be a "miscalculation" on Iran's part if Tehran interpreted Obama's overtures as a "sign of weakness."
The host country for Wednesday's talks has come under fire for its trade ties with Iran, with government figures last month showing an embarrassing 10.5-percent leap in German exports there in the first 11 months of 2008.