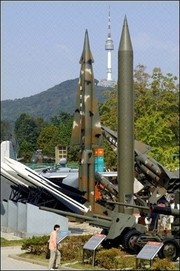 Displays of DPRK's Scud-B missile (R) and other RoK's missiles at the Korea War Memorial Museum in Seoul (AFP Photo)
World powers are set to adopt a joint statement urging Democratic People Republic of Korea (DPRK) to abandon plans to test a nuclear device, which Japan said could happen as early as this weekend.
The expected UN Security Council text, which does not explicitly threaten sanctions, would be weaker than the United States and Japan had requested amid disagreement over how to rein in the communist state.
As the man at the centre of the storm -- DPRK leader Kim Jong-Il -- visited army commanders Friday, frantic diplomacy intensified to dissuade his regime from carrying out its plan.
North Korean official media reported that during Kim's visit -- it did not specify when -- he was greeted with cheers and shouts of "Let's fight at the cost of our lives for the respected Supreme Commander Comrade Kim Jong Il!"
Japanese vice foreign minister Shotaro Yachi warned Pyongyang's resolve to conduct its first atom bomb test -- a plan it announced Tuesday -- should not be underestimated.
"We discussed the possibility that the test would occur this weekend," he said after talks in Washington with US deputy national security adviser Jack Crouch.
He added: "They will probably go ahead and do it as they had that tone in their declaration. It possibly means they are already very prepared."
In Tokyo, Prime Minister Shinzo Abe said he would be seeking common ground with his counterparts from China and Republic of Korea during his first foreign trip starting Sunday.
"It's important to share the same understanding of the situation between Japan and China, and also between Japan and South Korea, during the summits," Abe said.
"We need to send messages together to stop the North before they make such a reckless action."
Abe is known for his hardline stance on DPRK, while China and South Korea have favoured a more conciliatory approach.
South Korean Foreign Minister Ban Ki-Moon -- almost certain to be confirmed as next UN chief in a vote Monday -- would be willing to visit DPRK to negotiate an end to its nuclear programme, foreign ministry officials in Seoul said.
Speaking to the Financial Times, Ban said that, "if necessary, I will take my own initiatives to visit both North and South Korea and I will try to engage (Pyongyang) myself."
Both the United States and South Korea have warned they cannot tolerate a nuclear-armed North, Russia has held direct talks with the regime while China, Pyongyang's main ally, has urged it to show restraint.
In New York, Japan's Kenzo Oshima, who chairs the UN Security Council this month, said experts had made "good progress" in efforts to fine-tune a draft statement.
"Most likely we will have something adopted (Friday)," he added.
Japan and the United States had pushed for inclusion of a threat to resort to mandatory sanctions, including an arms embargo and other trade and financial sanctions under Chapter Seven of the UN charter.
Asked whether the latest version of the text would refer to Chapter Seven, Oshima replied: "I do not think at this stage it is something all members can agree."
China and Russia are known to be opposed to biting sanctions.
The latest UN text would "urge the DPRK not to undertake such a test and to refrain from any action that might aggravate tension."
It would call for it "to return immediately to the six-party talks without precondition and work toward the expeditious implementation" of its September 2005 pledge to abandon its nuclear weapons program in exchange for energy and security benefits.
The North has since November boycotted the talks with China, Japan, South Korea, Russia and the United States in response to US efforts to cut its links to the international banking system.
US State Department deputy spokesman Tom Casey said Washington expected a "strong Security Council statement" later Friday.
If the DPRK carry out a test, he said, "we are open to considering a full range of diplomatic actions," but played down talk of military action.
Amid the tensions, the dollar gained on the yen in Asian trade with players reluctant to take positions ahead of the weekend, dealers said.
Westpac Banking Corp chief currency strategist Robert Rennie in Sydney said concerns over DPRK were putting traders off Asian currencies.
"Being anywhere near the Korean peninsula this weekend is not something the foreign exchange market relishes," he said.

Source: AFP