Rescue teams, doctors and soldiers rushed by land, sea and air Thursday to help drag survivors of Haiti's devastating earthquake from the rubble and bring its people life-saving food and medicines.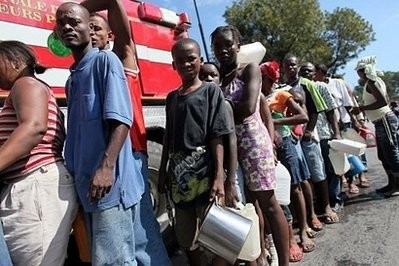 People line up to receive water from a firetruck in Port-au-Prince.
US President Barack Obama promised Haitians they would not be forgotten, offering 100 million dollars to buy life-saving equipment, food, water and medicine, and every element of US power to help them.
"This investment will grow over the coming year as we embark on the long-term recovery from this unimaginable tragedy," he pledged.
But more than two days after disaster struck there was no sign of desperately needed heavy-lifting equipment as anger and despair mounted along with the stench of decomposing bodies.
Haiti Prime Minister Jean-Max Bellerive said Tuesday's 7.0-magnitude quake, which flattened much of Port-au-Prince, may have killed more than 100,000 people, while the Red Cross put the number at between 40,000 and 50,000.
A giant US aircraft carrier was expected to drop anchor off the stricken Caribbean island nation on Friday and serve as a landing pad for a fleet of helicopters to bring emergency teams and vital supplies to quake victims.
The USS Carl Vinson is outfitted with dozens of hospital beds, three operating rooms and water-purifying equipment that can make 400,000 gallons of urgently needed drinking water a day.
An Obama administration official said the president had spoken Thursday with French counterpart Nicolas Sarkozy "about ongoing US and French relief efforts, and the need for coordination of immediate and long-term international efforts to assist the people of Haiti."
In Paris the presidency said Sarkozy and Obama, along "with Brazil, Canada, and other countries directly concerned," would organize an international conference on the reconstruction of the former French colony.
Nations from all corners of the globe joined the vast relief operation, as hundreds of thousands of homeless, injured and traumatized people awaited help on the corpse-strewn streets of Port-au-Prince.
Planes began arriving at the capital's airport bringing surgeons, field hospitals, water and emergency medical supplies, while search and rescue teams with sniffer dogs started to pick through the debris.
But little aid trickled down onto the streets and an AFP video showed scuffles breaking out as a helicopter dropped food over part of the city.
The US had to take over air traffic control at the overwhelmed Port-au-Prince airport, where authorities at one point asked for no more flights to be authorized as the facility was "saturated."
Governments and aid organizations unlocked millions of dollars and launched appeals for more to help survivors and reconstruct ruined homes, schools and hospitals in one of the world's poorest nations.
A US army spokesman said the first members of a brigade of 3,500 US troops had begun arriving in Haiti Thursday, while a Chinese aircraft also brought relief workers.
The US Air Force said it had flown five air missions so far, delivering 59 tons of supplies, carrying out seven rescues and transporting 113 rescue and aid workers.
Planeloads of rescue teams and relief supplies were also sent from countries including Belgium, Britain, Canada, France, Germany, Italy, the Netherlands, Poland, Portugal, Russia, Spain and Switzerland.
The Red Cross launched a 10-million-dollar appeal for donations, the World Food Programme offered 15,000 tons of food and the World Bank pledged an extra 100 million dollars in aid. The International Monetary Fund also offered 100 million dollars, its head Dominique Strauss-Kahn announced.
"We are entering a critical period. There must be massive humanitarian aid arriving this evening," said Olivier Bernard, president of the medical relief organization Medecins du Monde.
European development ministers will hold emergency talks in Brussels on Monday to discuss how best to help Haiti.
The European Commission has already pledged three million euros in aid with other offers in cash or kind coming from individual member states.
Britain said it would donate close to 10 million dollars, as a rescue team it sent touched down to help the hunt for survivors. Prime Minister Gordon Brown described the disaster as "a tragedy beyond imagination".
Aid group Medecins sans Frontieres (MSF) dispatched an inflatable field hospital including two operating theaters, 100 beds and medical staff to Haiti where it should be up and running by the weekend.
The International Red Cross said that it was sending 40 tons of medical supplies while the International Organization for Migration called for "tents, tents and more tents" to shelter the homeless.
To make it easier to help the urgent aid effort in Haiti several organizations have launched SMS campaigns enabling people to donate money by sending text messages.
The US State Department said the Red Cross alone had raised 5.9 million dollars in the first two days after the quake from people donating 10 dollars a time by texting HAITI to the number 90999.