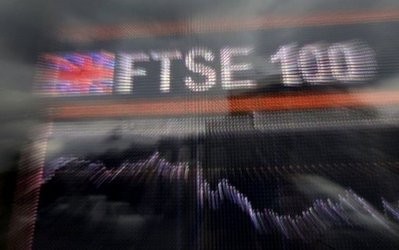 Stocks slumped globally and the euro dropped to a four-year low point. AFP file
LONDON (AFP) – Stocks slumped globally on Wednesday and the euro dropped to a four-year low point, hit by sudden German trading controls, as Chancellor Angela Merkel issued a dire warning about the eurozone crisis.
In late morning deals, London sank 2.30 percent, Frankfurt shed 2.59 percent and Paris lost 2.84 percent.
Stock prices in Athens fell by 2.25 percent, Madrid dropped 3.13 percent and Milan fell 3.69 percent.
The euro nosedived to 1.2144 dollars in earlier Asian deals, hitting the lowest point since April 17, 2006. It later pulled back to 1.2181 dollars.
"Angela Merkel's knee-jerk reaction to ban speculators from short-selling debt has sent the markets into a tailspin," ETX Capital senior trader Manoj Ladwa said in London.
"The reverberation of her decision is likely to have a serious negative impact on not only the euro, but also other European countries who may impose a similar restriction."
German Chancellor Angela Merkel called on Wednesday for a radical overhaul of Europe's fiscal rules along German lines, warning of "incalculable consequences" for the European Union if the euro were to fail.
"The current crisis facing the euro is the biggest test Europe has faced in decades, even since the Treaty of Rome was signed in 1957," she said in a speech in parliament, referring to the treaty that created the EU.
"This test is existential and it must be overcome ... if the euro fails, then Europe fails," Merkel added, defending Germany's slice of a near trillion-dollar package to prevent Greek debt woes spreading across Europe.
"The euro is in danger. If we do not avert this danger, then the consequences are incalculable and the consequences for the whole of Europe are also incalculable," she said.
In a unilateral move, Germany's securities market regulator Bafin has slapped a ban on so-called naked short-selling in shares of 10 financial institutions and eurozone government bonds, in a bid to end markets volatility.
The European Union reacted by calling for coordination against speculative trading, while French Finance Minister Christine Lagarde voiced reservations and said other states should have been consulted first.
Naked short selling occurs when investors sell on the market stocks or bonds they don't own and haven't even borrowed, hoping to be able to buy them back later at a lower price, thereby earning a profit.
Eurozone fears also plagued Asian stock markets, with Hong Kong slumping 1.08 percent and Tokyo shedding 0.54 percent, after Wall Street sank 1.08 percent overnight.
European stocks had risen on Tuesday as better-than-expected US economic data had helped offset persistent concerns about Europe's debt crisis.
"Equity markets have certainly started the session with something of a hangover in light of those German short-selling restrictions," said David Jones, chief market strategist at IG Index.
Bearish sentiment towards the euro currency has prevailed even after eurozone finance ministers vowed to fix the region's finances while expressing concern at their plunging currency.
After agreeing a 110 billion euro (140 billion dollar) bailout for Greece and a 750 billion euro fund for other European Union nations that may struggle to repay loans, Europe's leaders are scrambling to put the plan into action.
Fears are also growing that subsequent austerity measures being put in place in the eurozone will hit growth.
Meanwhile, there was little comfort from top economist Nouriel Roubini, who was one of the few experts to forecast the financial crisis.
"What's happening in Greece is just the tip of an iceberg of a broader range of sovereign debt issues, of deficit, in many advanced economies," he warned late on Tuesday.
The new crisis could occur "not just in the eurozone but UK, US, or Japan," he said in a speech at the London School of Economics.
"The next stage of the crisis could be a sovereign debt crisis that could lead to a double-dip recession."
He reiterated his view that "there is a possibility of a breakup of the monetary union."
"One or more countries of the eurozone could default," said the New York University professor.