SEOUL, Nov 10, 2010 (AFP) - World union leaders on Wednesday urged the summit of the Group of 20 economic powers meeting in Seoul to live up to an earlier promise to put quality employment at the heart of recovery measures.
More than 220 million people are unemployed around the world, the highest level ever recorded, and an increase of more than 31 million over 2007, Global Unions said in a statement.
Around 15 percent of the total unemployed lost their jobs since 2007 and some 100 million people have been pushed into absolute poverty by the global financial crisis, it said.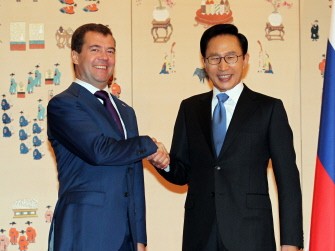 This handout taken on November 10, 2010 and made available by the Seoul G20 Media Pool shows Russian President Dmitry Medvedev (L) shaking hands with South Korea's President Lee Myung-Bak (R) during their meeting at the presidential Blue House in Seoul on the eve of the G20 Summit. AFP
G20 leaders meeting in Pittsburgh in September 2009 committed to putting "quality employment at the heart of the recovery."
"But (at the last summit) in Toronto we saw leaders step back from that promise," Sharan Burrow, International Trade Union Confederation (ITUC) general secretary, told journalists.
She said that in previous G20 summits in London and Pittsburgh, there were "strong words" about financial regulations aimed at preventing global banks from sparking another economic crisis.
Leaders have also made strong commitments to action on global warming and creating green jobs, she said.
"We are still waiting. There are no significant financial regulations. There is significant action on the climate, there is limited action in some countries on green jobs and there is now a bitter crisis of unemployment," she said.
"And so unions and representatives of workers of the world are saying -- this is the test: will the governments put those promises back at the centre of the communique (of the G20 Seoul summit) and will they implement them."
She said global workers were demanding the G20 summit put quality employment "up right at the front of the communique" and to invest in mechanism to create decent jobs everywhere.
Earlier on Wednesday, Burrow and other world union leaders met South Korean President Lee Myung-Bak, who she said had made a "very strong commitment" to creating quality jobs and a fair society.'
"He indicated he would leave discussions... with those commitments," she said.
Fear of the financial markets is pushing many G20 governments into retreating from expansionary policy in favor of austerity programmes, which if implemented, will sharply increase the risks of economies returning to recession, the ITUC said in a statement released last week.
"Government should not accept the prospect of a decade of stagnant labour markets in industrialised countries, the entrenchment of poverty in developing countries and a lost generation of youth shut out from productive activity," it said.
"G20 leaders should, in the short term, give priority to reducing unemployment and, in the medium term, pursue a different model of growth and development -- one that is balanced, sustainable, creates decent work and distributes income fairly.
To this end, the Global Unions call on G20 governments "to retain recovery measures that focus on job reation, so as to reduce public deficits through sustained economic growth rather than spending cuts," it added.
The ITUC represents 176 million workers in 151 countries and territories and has 301 national affiliates.