Work on the world's tallest statue of Jesus was completed in Swiebodzin, western Poland, looming three metres higher than the Christ figure towering over Rio de Janeiro in Brazil.
Measuring 36 metres (117 feet) in height, the Christ of Swiebodzin weighs in at an estimated 440 tonnes.
Like the robed Christ figures in Concordia, Bolivia, and in Rio de Janeiro, the statue of Swiebodzin is entirely white but the Polish Christ is distinguished by a three-meter-high golden crown.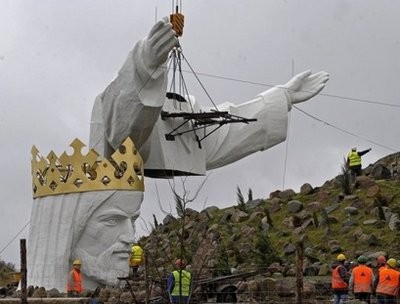 A crane lifts sections of the statue of Jesus Christ in Swiebodzin, western Poland
A enormous crane was needed to fix the head and arms in place. An initial attempt last week to complete assembly failed when a different crane failed to sufficiently lift the elements.
"It is my life's work.... He will be the greatest preacher of the faith. Europe needs preachers like Christ," local Roman Catholic priest Father Sylwester Zawadzki, who launched the project to build the tallest Christ figure in the world five years ago, told AFP.
Financed by private donations collected both in Poland and abroad, the statue is located 50 kilometres (31 miles) from the Polish-German border and is visible from the A2 highway linking Warsaw and Berlin.