New Orleans shrugged off a pounding blow by Hurricane Gustav, with relieved officials saying the city appeared to have avoided a repeat of the catastrophe of three years ago when Katrina struck with deadly effect.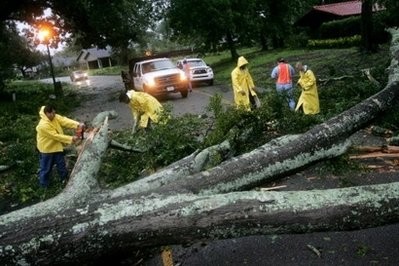 Local workers cut up a fallen tree blocking a street shortly after Hurricane Gustav passed through Lafayette, Louisiana. The intensity of Hurricane Gustav has weakened dramatically since it hit Lafayette but was still powerful enough to knock down large trees in residential neighborhoods.(AFP/Getty Images/Rick Gershon)
"It's been a hell of a day," St. Bernard Parish chief sheriff's deputy Jimmy Pohlmann told AFP as National Guard soldiers reinforced an overflowing levee with sand bags at sundown Monday.
"I think the worst has passed," he said. "But it always seems when you think you have everything under control something bad happens."
Gustav pounded the US Gulf coast Monday with ferocious rain and wind, but the partially rebuilt levees in New Orleans appeared to be holding almost three years to the day since Katrina swamped the fabled jazz city.
An estimated 10,000 residents remained in the city after nearly two million people fled coastal areas over the weekend -- an exodus authorities described as the biggest evacuation in US history.
At least seven deaths were blamed on Gustav, Louisiana officials told US media, bringing the storm toll to more than 100 dead after the storm battered the Caribbean for days.
Four victims on Monday died in accidents during evacuations and three critically ill hospital patients died while they were transferred from local medical centers, local officials said.
The toll for the Caribbean was at 96, with most of the victims killed in Haiti.
Fallen tree branches and downed power lines crisscrossed streets in New Orleans's Upper Ninth Ward -- ground zero of the 2005 disaster. The wind ripped siding, gutters and roof tiles from houses in the mostly deserted city.
A convoy of National Guard soldiers rode through flood water in the poor neighborhood, determined to ferret out stubborn residents defiantly seeking to outlast the hurricane, and to prevent a repeat of the post-Katrina anarchy.
The storm slammed ashore Monday morning as a Category Two hurricane packing winds of 110 miles (175 kilometers) per hour but Gustav weakened overland and by Monday evening it had been downgraded to a tropical storm, the National Hurricane Center said.
By 1:00 a.m. (0600 GMT), the storm carried winds of 45 miles (75 kilometers) per hour with the center of the storm about 50 kilometers southwest of Alexandria, Louisiana. It was headed for eastern Texas later Tuesday, forecasters said.
"Gustav continues to weaken over Louisiana while dropping heavy rains," the center said.
More than 400 of those who chose not to evacuate were hunkered down in St. Bernard Parish at its border with Plaquemines parish as soldiers, police, residents and prisoners beefed up the earthen wall with sand bags.
"We make the most of it," National Guard master sergeant Steve Sancho said as he tossed sacks of sand along a chain of soldiers leading to the top of a brimming levee protecting a Plaquemines Parish pumping station.
"We were expecting the worst and we made out the best. Spirits are really high right now."
Plaquemines parish is 55 miles (90 kilometers) southeast of New Orleans.
Gustav hit the rural Terrebonne Parish and the Houma area hardest, southeast of New Orleans, according to Louisiana Governor Bobby Jindal. A docked ferry with no one aboard sank, and roofs and storefronts were ripped off.
As night fell officials were watching the mighty Mississippi River, canals and other waterways to make sure a surge of water from the tail end of Gustav did not spawn a devastating wave.
"We might see the worst tide surge on the back of the storm," Jindal said.
The governor warned late Monday that some levees "could easily breach." New Orleans city officials said Monday the levee system was "in good shape and holding," despite repair work still under way after floodwaters unleashed by Katrina washed away the protective embankments in 2005.
A dusk-to-dawn curfew remained in force in New Orleans, and Mayor Ray Nagin reported only one arrest for looting.
Regional utility company Entergy reported that just over 100,000 households -- about half the city -- were without electricity as Gustav's winds tore down power poles.
The Pentagon authorized deploying up to 50,000 reservists, with more than 14,000 stationed across the coast.
President George W. Bush took a more hands-on role after suffering a political pummelling over the botched federal response to Katrina, which killed some 1,800 people and left hundreds of thousands homeless.
"The coordination on this storm is a lot better than during Katrina," he said during a visit to Austin, Texas to oversee relief preparations.
Bush scrapped plans to attend this week's Republican national convention because of Gustav.