Cambodia's worst floods in over a decade have killed 167 people, a disaster official said Wednesday, as efforts intensified to provide aid to tens of thousands of families.
Sixty-eight children were among those who died in nearly two months of flooding caused by heavy rainfall that has also seen the Mekong River overflow, said Keo Vy, spokesman for the National Committee for Disaster Management.
Some 300,000 hectares (740,000 acres) of rice paddies have been inundated and more than 23,000 families had to be evacuated to higher ground in provinces across the country, he added.
"The government and the Red Cross are giving the necessary help to those affected," Keo Vy said, adding that aid, including food deliveries, had so far reached 40,000 families.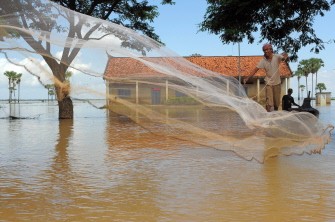 A Cambodian fisherman throws his net into floodwaters near a school at Pea Reang district in Prey Veng province, some 60 kilometers east of Phnom Penh on October 6, 2011.
He estimated that nearly 230,000 families across the impoverished nation had been affected by the unusually severe floods but he indicated the situation was under control.
"As Prime Minister Hun Sen has said, we are not appealing for aid but we welcome any assistance," he said.
International relief organisation Oxfam, which has started handing out hygiene kits in some areas, has urged all relevant agencies in Cambodia "to urgently deliver food, clean water, sanitation supplies and shelters".
In neighbouring Thailand, the worst monsoon floods in decades have left more than 220 people dead.