Mexico is finally getting the upper hand on a flu epidemic that has killed 22 people, and is poised to lift an economically crippling clampdown on public venues and activities on Wednesday, authorities said.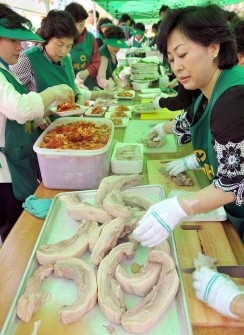 Republic of Korea's volunteers cook boiled pork meat during an event sponsored by district officials in Seoul on May 4, 2009 to boost pork consumption. (AFP Photo)
Mexico was about to "overcome" the virus, which had also infected 568 people over past weeks, President Felipe Calderon told state television and radio on Sunday.
"We have been able to hold or at least reduce the rate of propagation of the virus to contain the epidemic," he said.
His health minister, Jose Angel Cordova, said: "It is very likely that restaurants and other points of economic activity will re-open on Wednesday."
A lifting of restrictions would spell relief for restaurants, cafes, bars, clubs, cinemas, theaters and gyms in Mexico City which were ordered on April 28 to close to prevent contagion among clients.
The city's hospitality sector estimated the measure was costing the economy 100 million dollars a day and risking 450,000 jobs, as well as deepening a sharp tourist slump caused by flu fears.
Non-essential offices ordered to shut over a five-day holiday weekend were due to reopen Wednesday.
Schools across the nation shut for more than a week were also to be sanitized in readiness for a return to classes at a date yet to be determined.
Cordova told reporters Sunday the epidemic had peaked in Mexico April 23-28.
He noted fewer people were now being admitted to hospitals with symptoms of the virus, "and those cases are less and less serious."
Fifteen of the fatalities were women and seven were men, he said. Most died in Mexico City.
Although restrictions were about to be eased, the government warned that caution should still be exercised.
It said it established on Sunday a list of public recommendations -- particularly for restaurants, public transport and other enclosed spaces -- to ensure the epidemic did not flare up again.
"These are instruments for all the population, empowering it to keep itself healthy," Cordova said, adding they would be revised constantly on his ministry's website.
The shift from mandatory virus-containment measures to voluntary rules was also an effort to revive a devastated tourism sector -- an important source of foreign currency revenue for Mexico.
Cordova said the longer restrictions stayed in place, "the more difficult it will be to restore credibility so the tourists return to the tourist sites."
The government defended its handling of the epidemic, saying officials had been responsible in preparing for a worst-case scenario and prompt in acting.
At the peak of the crisis, the health minister had spoken of 159 "probable" deaths, prompting the World Health Organization to raise its alert over the flu to warning a pandemic was "imminent."
Since then, though, stringent tests by US and Canadian labs have excluded the majority of the "probables," leaving the significant though much-smaller confirmed toll.
Mexico meanwhile directed its anger at China, which it accused of "unjustly" putting 70 visiting Mexicans in forced isolation despite them not showing symptoms of the virus.
China denied the allegation, saying its measures were not discriminatory.