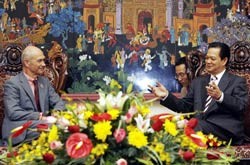 World Trade Organisation General Director Pascal Lamy (L) meets with Vietnamese Prime Minister Nguyen Tan Dung, Nov. 15, 2006 (AFP Photo)
World Trade Organisation chief Pascal Lamy met with Asia Pacific foreign and trade ministers here Wednesday in a fresh effort to salvage global trade talks.
Lamy joined ministers of the Asia Pacific Economic Cooperation (APEC) forum in Hanoi amid a warning from Australia that the so-called Doha round of negotiations was on "life support."
The Doha round is meant to reduce subsidies, tariffs and other barriers to commerce and raising living standards in developing countries.
But the talks have been dogged by disputes between rich and poor countries over what concessions should be made, notably on farm subsidies. A compromise among trade heavyweights is seen as the key to breaking the deadlock.
"The Doha round is in the balance," Foreign Minister Alexander Downer said, warning that time was running out.
"It is, if you like, on a life support system and we hope this meeting can contribute some medicine which will help to get it off the life support system and it'll be able to climb out of its hospital bed and perhaps we will be able to get some movement towards results," he told reporters after arriving in the Vietnamese capital late Tuesday.
Leaders of the 21 key Asia Pacific economies, including the United States, China, Japan and Russia, are to call for negotiators to be flexible in offering concessions to revive the talks, according to a draft final statement obtained by AFP.