Hip-hop star Wyclef Jean refused to abandon his bid to become president of quake-hit Haiti as his lawyers prepared to appeal the Electoral Commission's decision to reject his candidacy.
"Tomorrow our Lawyers are appealing the decision of the CEP," Jean said in a message on the micro-blogging site Twitter. "We have met all the requirements set by the laws. And the law must be respected."
Jean, who had initially accepted the electoral council's decision and urged hordes of young supporters to do the same, did not say what had prompted his change of heart.
Haiti's CEP on Friday ruled Jean ineligible to stand as he had not met the requirement to have been a resident in the Caribbean island nation for five years.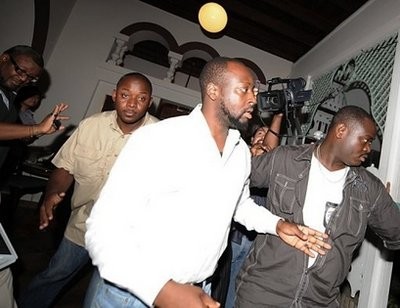 Wyclef Jean (C) is chased by reporters on August 20, in Port-au-Prince.
Jean, 40, lives in the New York area but spent his first nine years in Haiti. He traveled back to his homeland several times before the quake to defuse violence in gang-infested slums and help the most disadvantaged Haitians.
The Grammy Award-winning musician, whose candidacy has raised the international profile of the crucial polls, did not elaborate on the residency issue.
"Wyclef has just arrived home and is thrilled to be home with us," said a note to the media issued by his family late Sunday. "He has asked that he have the next 24 hours to sleep and enjoy time with his family."
The presidential and legislative election is scheduled for November 28 in a country still recovering from a devastating January 12 earthquake that killed at least 250,000 people and left 1.5 million homeless.
The rebuilding task facing the new president, who will succeed the two-term incumbent Rene Preval, is enormous and the international community is concerned that 5.3 billion dollars of promised aid doesn't go to waste.
US actor Sean Penn, who runs a 55,000-person tent camp for the homeless in Haiti, and others have accused Jean of misusing hundreds of thousands of dollars he raised after the earthquake for a charity he ran.
Jean has acknowledged "missteps" at the charity before the earthquake but rejected claims of misappropriated funds.
In an open letter made public before the ruling, Jean said that whatever his own political fate, the world needed to do more to help Haiti, whose already serious woes were multiplied by the catastrophic earthquake.
The electoral council late Friday authorized 19 candidates to run in the presidential election. Those rejected included all of the Haitians living abroad, including Raymond Joseph, Haiti's ambassador to the United States, who is also Jean's uncle.
Authorized candidates include Jude Celestin -- endorsed by President Rene Preval, who cannot run for re-election -- former prime minister Jacques-Edouard Alexis, and singer Michel Martelly.