Yahoo has announced that co-founder Jerry Yang, who spurned a takeover offer from Microsoft earlier this year, is stepping down as chief executive of the pioneering Internet company.
"Jerry and the Board have had an ongoing dialogue about succession timing, and we all agree that now is the right time to make the transition to a new CEO who can take the company to the next level," Yahoo chairman Roy Bostock said Monday.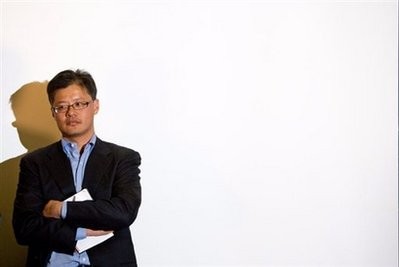 Jerry Yang, Co-Founder of internet giant Yahoo.
"We are deeply grateful to Jerry for his many contributions as CEO over the past 18 months, and we are pleased that he plans to stay actively involved at Yahoo as a key executive and member of the Board," he added in a statement.
Yahoo said Yang, 40, would step down as soon as the board of directors finds a new chief executive.
Yang said it was time to turn the company, whose share price has plummeted during the past year, over to a new leader.
"From founding this company to guiding its growth into a trusted global brand that is indispensible to millions of people, I have always sought to do what is best for our franchise," Yang said in a statement.
"When the Board asked me to become CEO and lead the transformation of the Company, I did so because it was important to re-envision the business for a different era to drive more effective growth," he said.
"Having set Yahoo on a new, more open path, the time is right for me to transition the CEO role and our global talent to a new leader," he said.
"I will continue to focus on global strategy and to do everything I can to help Yahoo realize its full potential and enhance its leading culture of technology and product excellence and innovation."
Yang's rejection of Microsoft's 33-dollar-a-share takeover bid earlier this year was met with disapproval by many of the California company's shareholders. Yahoo has since been trading around 10-12 dollars a share.
Yang assumed the role of chief executive of the company in June 2007.
Yahoo said the company was looking at both internal and external candidates and had retained Heidrick & Struggles, a leading international executive search firm, to assist in the process.