European economic and political leaders were expected Wednesday to place China's currency and trade surplus firmly at the top of the agenda at an annual one-day summit in Beijing.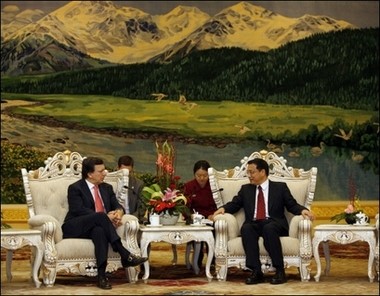 European Commission President Jose Manuel Barroso (L) listens to China's Politburo Standing Committee member Li Keqiang during their meeting in the Great Hall of the People in Beijing, Nov. 28, 2007. (Photo: AFP)
European Union chiefs made clear in the lead up they would focus on a trade imbalance that grows by 15 million euros (22 million dollars) every hour, but they have said they wanted to avoid protectionist measures.

"We... need to identify a solution to solve this question, and I hope that it is a cooperative one," Serge Abou, the EU's ambassador to China, said in an opinion piece in the China Daily newspaper published Wednesday.

"Protectionism is not a winning option. So let us unite our efforts to resist protectionist trends."

Early Wednesday, a European delegation headed by European Commission President Jose Manuel Barroso met in Beijing's Great Hall of the People with Li Keqiang, a member of the elite Politburo Standing Committee.

"Since 1975, this relationship has come a long way," said Li, widely considered a rising political star among the next generation of leaders slated to assume power in five years.

"I particularly want to mention our fast growing business ties," Li told the European visitors.

The EU, China's largest export market, ran a trade deficit of 128 billion euros (175 billion dollars) with China last year -- which is likely to balloon to 170 billion euros in 2007, according to EU statistics.

"China does not want to pursue economic progress at the expense of its trade partners. It is all in favor of a win-win situation," the English-language China Daily, which mainly targets a foreign audience, said in an editorial.

Prior to Wednesday's summit, EU leaders had called for more decisive Chinese measures to address the trade imbalance, warning that inaction could have a negative impact on public opinion in Europe.