SANAA, April 24, 2011 (AFP) - Yemen protesters demanded Sunday the immediate departure of President Ali Abdullah Saleh after his ruling party accepted a Gulf plan for him to quit in 30 days in a move promptly hailed by Washington.
The United States had urged a peaceful transition after Saleh's General People's Congress party said late Saturday it accepted a plan put forward by the Gulf Cooperation Council, under which he would quit after months of protests.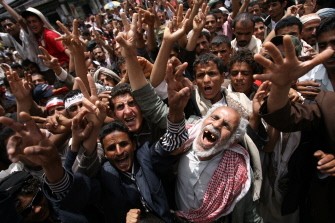 AFP - Anti-government protestors call for the resignation of Yemeni President Ali Abdullah Saleh, in the capital Sanaa, on April 23, 2011
"There is a consensus on rejecting the initiative" proposed by the Gulf Cooperation Council, said Abdulmalik al-Yusufi, a leading activist at a sit-in demonstration in Sanaa's University Square.
The Gulf plan would see Saleh submit his resignation to parliament within 30 days, after forming a national unity government and handing power to his deputy. A presidential vote would be held within two months.
"The GPC and its allies have accepted the GCC initiative in its entirety," Soltan al-Barakani, the party's deputy secretary general and head of its parliamentary bloc.
Yemen's Foreign Minister Abu Bakr al-Kurbi was in Abu Dhabi, where he was expected to tell his United Arab Emirates counterpart of the decision, Barakani added.
The UAE currently holds the rotating presidency of the GCC.
Yemen's parliamentary Common Forum opposition coalition also welcomed the Gulf plan but insisted Saleh has to go before forming a national unity government.
The White House on Saturday welcomed the plan for Yemen's longtime president to step down, urging all sides to "swiftly" implement a peaceful transfer of power.
"We applaud the announcements by the Yemeni government and the opposition that they have accepted the GCC-brokered agreement to resolve the political crisis in a peaceful and orderly manner," White House spokesman Jay Carney said in a statement.
He also urged "all parties to move swiftly to implement the terms of the agreement so that the Yemeni people can soon realise the security, unity, and prosperity that they have so courageously sought and so richly deserve."
US State Department spokesman Mark Toner said earlier that "the timing and form of this transition should be identified through dialogue and begin immediately."
He also called for "genuine participation" from all sides and urged them to refrain from violence.
Officials in the United States, which had regarded Saleh a key ally in its fight against terrorism, are alarmed at the fallout from the upheaval in Yemen, where Al-Qaeda has already exploited the violent power struggle between Saleh and his opponents.
On Friday, Saleh had given a cool response to the Gulf plan for him to quit after being in power for 32 years, even as massive crowds returned to the streets to demand his immediate ouster.
The embattled leader insisted he would stick to the constitution in any power transfer.
Protesters who have taken to the streets of Yemen since late January, demanding the departure of Saleh and his regime, were not as open as the opposition.
Those camping out at University Square, which they have dubbed Change Square, staged a protest after midnight Saturday stressing their rejection of the plan.
"Down with the regime" and "Down with all parties," they chanted.
"The Gulf initiative addresses the problem as if it was a political crisis between two parties... We have taken to the streets in a revolution that is demanding a comprehensive change," Yusufi said.
Ahmed al-Wafi, another leading activist in Taez, Yemen's second largest city and host to ongoing mass protests, also dismissed the latest statement by the GPC as an attempt to "buy time."
"The youth will only accept an immediate departure of Saleh. They are not concerned by any negotiations," he said, insisting that the parliamentary opposition will have to "follow the street stance."
More than 130 people have been killed in clashes with security forces and president loyalists since protests broke out late January.