The leader of Yemen's secessionist Southern Movement was arrested and shots were fired on the ninth day of demonstrations in the capital Sanaa on Sunday.
A male protester and a young girl died in a hospital in the southern city of Aden, after being wounded, apparently by stray bullets, during protests on Saturday in a nearby town, a doctor told Reuters. Their deaths brought the toll from the past two days to seven.
Thousands of people staged sit-ins in the cities of Ibb and Taiz, as well as in two districts of Aden, to demand the departure of President Ali Abdullah Saleh, who renewed an offer of dialogue to opposition parties.
Saleh, a U.S. ally battling a resurgent al Qaeda wing based in Yemen, has held power for 32 years in the poor Arabian Peninsula state, which faces soaring unemployment, dwindling oil and water reserves, and chronic unrest in northern and southern provinces.
Security in Aden was stepped up on Sunday, with tanks and armored vehicles out on main streets.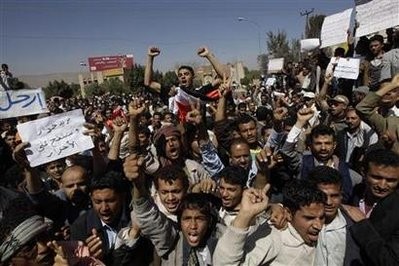 Anti-government protesters shout at government backers during a protest in Sanaa February 20, 2011
Hasan Baoum, head of the secessionist Southern Movement, was arrested by an "armed military group" in an Aden hospital where he was being treated, his son Fadi Hasan Baoum told Reuters.
Baoum was also arrested in November last year, accused of planning illegal demonstrations.
CALL FOR DIALOGUE
Saleh renewed his call for dialogue with opposition parties and blamed the latest protests on "elements outside the system and the law."
"Dialogue is the best way. Not sabotage. Not blocking the roads," he told tribal, military and civil leaders in Sanaa.
But the coalition of main opposition parties, including the Islamist Islah and the secular Socialist Party, said there could be no dialogue with "bullets and sticks and thuggery," or with a government "which gathers mercenaries to ... terrorize people."
Around 50 government supporters tried to break up a demonstration outside Sanaa University by 1,000 protesters.
A Saleh supporter fired shots from an assault rifle but there were no reported casualties and the government supporters soon dispersed, while the protesters chanted, "Leave, Ali!"
Both sides fired weapons on Saturday outside the university -- the first reported use of firearms by demonstrators. Several protesters were hurt in those clashes.
PROTESTS AND SIT-INS
Protests have taken place across Yemen, a country of 23 million which borders the world's top oil exporter Saudi Arabia.
In the southern city of Ibb, around 1,000 protesters set up camp in Freedom Square waving banners which read "Leave" and "The people want the fall of the regime," witnesses said.
In Taiz, thousands continued a sit-in for a ninth day. Hundreds launched new sit-ins in the Mansoura and Crater districts of Aden.
Twelve Yemeni human rights groups demanded in a statement that security officials in Aden, Sanaa and Taiz be put on trials over attacks on protesters.
On Saturday, Saleh blamed a "foreign agenda" and a "conspiracy against Yemen, its security and stability" for the protests against poverty, unemployment and corruption which have gained momentum since the uprisings in Tunisia and Egypt.
Saleh is facing an al Qaeda branch that has launched attacks at home and abroad. He is also confronted by a separatist revolt in the south and trying to maintain a shaky truce with Shi'ite Muslim rebels in the north.