Tens of thousands of Yemenis protested in Sanaa on a "Friday of the Revolutionary Will" to press for the overthrow of their wounded president
.
A car bomb killed five people in the southern port city of Aden, as Yemen remained in political limbo over President Ali Abdullah Saleh's refusal to quit after being injured in an attack on his palace this month.
Saleh, 69, recovering from his wounds in Saudi Arabia, has defied months of mass protests and pressure from the United States and his Gulf Arab neighbors for his departure.
He has repeatedly refused to transfer power to his deputy under a Gulf-brokered plan aimed at preventing the impoverished Arabian country from sliding into civil war.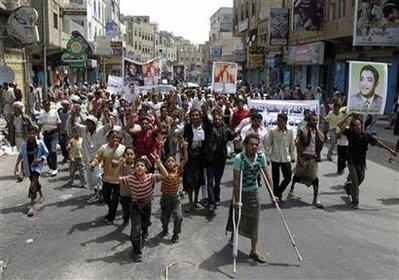 Anti-government protesters shout slogans during a demonstration to demand the ouster of Yemen's President Ali Abdullah Saleh in the southern city of Taiz June 23, 2011.
Four soldiers and a civilian were killed and 16 people, including 13 soldiers, were wounded in a powerful explosion in Aden's al-Mansoura district, medical sources and witnesses said.
A security source said the blast was caused by a car bomb at a military checkpoint. Residents said the explosion smashed the windows of a nearby hospital and rocked buildings in the area.
U.N. RIGHTS MISSION
The U.N. Security Council Friday voiced its "grave concern" at the situation in Yemen, ending months of disagreement that had prevented the 15-nation body from speaking unanimously on the unrest there.
"The members of the Security Council expressed their grave concern at the deteriorating security and humanitarian situation in Yemen," Gabon's U.N. Ambassador Nelson Messone, Council president this month, told reporters after a closed-door meeting on Yemen.
"They urged all parties to show maximum restraint and to engage in an inclusive political dialogue," he said.
A team of United Nations human rights investigators will travel to Yemen next week to assess the situation after months of unrest, a U.N. spokeswoman said.
The experts will talk to government officials, activists, victims of human rights violations, members of the political opposition and religious leaders during the June 27-July 6 mission.
The United States has called for an immediate and peaceful handover of power to Saleh's deputy, Abd-Rabbu Mansour Hadi, acting president in Saleh's absence, under a Gulf Arab proposal to end a crisis that has pushed Yemen to the verge of civil war.
MARCH PIPELINE ATTACKS
The Interior Ministry published the names of 43 members of the opposition it accuses of blowing up oil pipelines and attacks on power pylons, the news agency said.
The Ministry of Interior said members of the Joint Meeting Party coalition were behind the pipeline attacks in Maarib province and the attacks on pylons, causing a fuel crisis and power cuts.
In March, tribe members opposed to Saleh attacked electricity pylons in the central Maarib province triggering power outages in parts of the capital Sanaa.
The same month, a blast on Yemen's main oil pipeline had stopped the flow of light Marib crude to the Aden refinery, bringing it to a halt and leading to country-wide fuel shortages.
Earlier Friday, security forces in Aden shot dead a demonstrator and wounded six others when they fired on a crowd at the funeral of a resident who died in prison, witnesses said.
The demonstrators had been displaying a large flag of former south Yemen, which merged with north Yemen in 1990 -- a sign of the separatist sentiment that had grown in the south even before the wave of popular protests against Saleh's 33 years in power.
In the capital Sanaa, opposition supporters packed the central Street Sixty to show they still wanted Saleh to quit.
The number of demonstrators who had camped out in city squares all over Yemen since February had dwindled after Saleh was flown to Riyadh for treatment after the June 3 attack.
"We will escalate our struggle and revolution to bring down the remaining pillars of the regime and force them to leave," said Abdel-Jabbar al-Dubhani, an activist, as he hurried for Friday prayers on Sixty Street.
Demonstrators carried placards demanding an interim council be set up to prepare for elections. They want it to include youthful activists who have kept up protests since February.
"We demand a transitional council," one sign said.
Addressing Western powers, the Friday prayer preacher said: "Isn't freedom and choosing our own rulers, as you do in your own countries, our right?"
Similar protests were reported in other cities, including Taiz, Ibb and Hudaida on the Red Sea.
Saleh supporters, in smaller numbers, prayed at another mosque in Sanaa, displaying posters of the president and his Saudi host, King Abdullah, before dispersing peacefully.
"Thank you, king of the Arabs," one poster read, referring to the Saudi monarch. Another said: "The people want Ali Abdullah Saleh."