SANAA, Sept 25, 2011 (AFP) - Yemeni President Ali Abdullah Saleh said Sunday he is ready to quit through early elections and is committed to a Gulf-brokered power transfer deal, without committing to sign it himself, in his first speech since returning from a months-long absence.
"You who are running after power, let us head together toward the ballot boxes," Saleh said in a speech aired on state television on the 49th anniversary of the September 26, 1962 revolution that saw Yemen proclaimed a republic.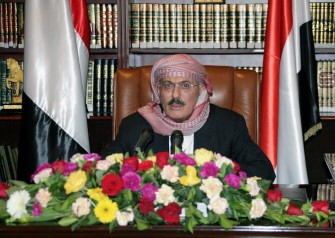 AFP - A handout picture released by the Yemeni presidency shows President Ali Abdullah Saleh giving a televised speech in Sanaa on September 25, 2011 on the occasion of the 49th anniversary of the September 26, 1962 revolution that saw Yemen proclaimed a republic.
Saleh's security forces on Sunday opened fire on a march of tens of thousands in the capital wounding 18 people, according to medics.
Medics said that a protester who was declared dead earlier has not died but is in a comma.
The protester was shot in the head as he shouted into a megaphone while perched on top of a minivan that was leading the march of tens of thousands of people in the capital, an AFP correspondent reported.
The protesters, who chanted "Freedom! Freedom! The people want the butcher tried!" retreated to their base in Change Square, epicentre of anti-regime protests in the capital, after the shooting.
Later on Sunday, the capital was cautiously quiet in anticipation of Saleh's speech.
"We are committed to implementing the Gulf initiative as it is and signed by Vice President Abdrabuh Mansur Hadi whom we have authorised in a presidential decree," said Saleh, who spoke in a recorded speech in which he sat in what looked like his office, wearing a suit and a traditional turban.
Saleh called again for "dialogue and signing the deal and its implementation mechanism to take the country out of this dangerous impasse."
The embattled president has repeatedly refused to sign the Gulf-brokered power transfer deal by which he would hand powers over to Hadi in return for immunity from prosecution.
Tens of thousands of people took to the streets of Sanaa on Sunday demanding Saleh's trial for crimes committed during his decades-long rule, hours before he was expected to talk.
On September 12, he authorised Hadi to negotiate a power transfer with the opposition.
In his speech on Sunday, Saleh called for "complete elections -- presidential, parliamentary, and local -- if they were agreed upon. Otherwise, we are committed to the Gulf initiative," which calls for presidential elections only.
The Gulf Cooperation Council deal was meant to be finalised in the past week. But Yemeni security forces and Saleh's loyalists have been locked in fighting with defected army units and dissident tribesmen since last week.
The security forces have also repeatedly attacked protesters camped at Sanaa's Change Square.
The violence has left 173 people dead in one week in the capital, according to figures obtained from medics, the opposition and tribal sources.
Saleh, who was hospitalised in Saudi Arabia from bomb wounds sustained in an attack on his palace compound in Sanaa, returned on Friday promising peace.
However, fighting flared as dozens were killed in Sanaa after his arrival.
"The crisis is big and great and deserves from the wise ones and the politicians to review their stances and learn from previous lessons," said the 69-year-old veteran leader.
"Thanks God my health is good and I will continue the treatment and rehabilitation over the next coming months," he said, without clarifying whether the treatment will be in Yemen or abroad.
Saleh has come under pressure from the GCC nations, sponsors of the Gulf initiative that provides a road map for a peaceful transition of power in Yemen, the United Nations and the United States to step down.
On Sunday, King Abdullah of Saudi Arabia, Yemen's powerful and wealthy Gulf neighbour, urged Yemenis to implement the Gulf Initiative.
"We see that the Gulf Initiative is still the exit to resolve the Yemeni crisis and prevent the situation (there) from getting worse," said King Abdullah in a statement carried by state news agency SPA.
On Saturday, GCC ministers condemned the violence in Yemen and echoed US and UN calls urging Saleh to "immediately" sign the initiative.
A UN Security Council statement on Saturday called on all sides to "reject violence, including against peaceful and unarmed civilians, and show maximum restraint."
"They called on all parties to move forward urgently in an inclusive, orderly and Yemeni-led process of political transition," it said.
In Yemen's second-largest city of Taez, meanwhile, four people including one soldier were killed and at least 10 others, among them an officer, were wounded in violence on Sunday.
Taez has been the scene of intense clashes between government troops and anti-government protesters since calls for Saleh's resignation first began.
At least nine people have been killed there in the past week, six of them civilians, according to medical officials.