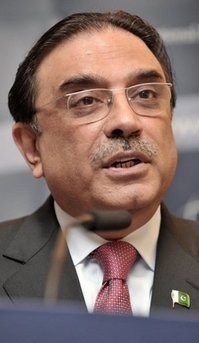 President Asif Ali Zardari has chaired crisis talks with Pakistan's ruling party on how to prevent his government unravelling after a court scrapped an amnesty on corruption charges. (AFP file)
ISLAMABAD (AFP) – President Asif Ali Zardari chaired crisis talks with Pakistan's ruling party Saturday on how to prevent his government unravelling after a court scrapped an amnesty on corruption charges.
In a bid to head off what could be the worst political crisis of his troubled 15 months in power, the president convened the central executive committee of the Pakistan People's Party (PPP) in the capital Islamabad.
The meeting comes after the Supreme Court annulled a decree protecting more than 8,000 people, including Zardari and top allies, from corruption charges, in a move welcomed by a public increasingly fed up with the government.
A court has since summoned Interior Minister Rehman Malik over re-opening a corruption case and officials also banned Defence Minister Ahmed Mukhtar from leaving the country on an official visit to close ally China.
Pakistan's anti-corruption National Accountability Bureau (NAB) has called for travel bans on 253 people since Wednesday's court ruling, sparking calls for Zardari to resign and rattling the US-backed government.
An official in Zardari's office said the meeting began at 2:00 pm (0900 GMT) but party loyalists were tight-lipped on the options up for discussion.
Prime Minister Yousuf Raza Gilani has ordered an inquiry into why Mukhtar was banned from travelling, and suspended the top civil servant at the interior ministry, a director at the Federal Investigation Agency and two inspectors.
"The meeting will discuss the present political situation," said Zardari spokesman Farhatullah Babar.
PPP spokeswoman Fauzia Wahab said: "The party would like to take into account the point of view of its members, their suggestions and the strategy that the government should adopt."
Zardari is immune from prosecution as president, but his eligibility for office could be challenged because corruption cases were pending against him when the amnesty was adopted. Cabinet ministers have no such immunity.
Besides summoning the interior minister to appear in court, the anti-corruption bureau has reopened cases against 52 other people -- cases frozen when the amnesty was passed in 2007, said one senior official.
Politicians, bureaucrats, ex-military officers and diplomats are on an "exit control list" restricting travel, say NAB officials.
"Arrest warrants issued against some are also revived and properties of accused frozen again," said NAB's media officer Naveed Sattar.
Pakistan is ranked the world's 40th most corrupt country out of 180 by global watchdog Transparency International and many governments have fallen as a result of military intervention over accusations of graft.
Analysts are divided on the options open to Zardari. Some believe the government should swiftly sack the implicated ministers in a bid to restore public confidence but others suspect Zardari will fight.
"The government and president Asif Zardari will not retreat. They will stay in power and fight back," said Rasool Bakhsh Raees, political science professor at Lahore University of Management Sciences.
"They will campaign on three grounds -- that a conspiracy is being hatched, that the establishment never accepts the PPP in power and that the judiciary is being used as an instrument to destabilise the government."
"I believe that a tussle between the government and the judiciary has started... This does not mean the PPP is dying out," Raees said.
The amnesty -- called the National Reconciliation Ordinance -- was passed in October 2007 by then-president Pervez Musharraf, who was under pressure to hold elections and end years of military rule.
It quashed charges against a number of politicians including Zardari and his wife and ex-prime minister Benazir Bhutto -- who was assassinated two months later -- to allow them to stand for office.
Zardari's PPP went on to win elections in 2008, restoring civilian rule, but his relations with the powerful military are strained and his public approval ratings at rock-bottom.