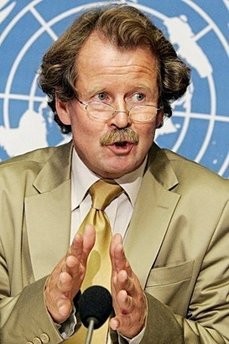 United Nation special rapporteur on torture Manfred Nowak, pictured in 2006 (AFP photo)
HARARE (AFP) – Zimbabwe on Thursday expelled the UN torture expert who had been set to meet Prime Minister Morgan Tsvangirai, as regional ministers met to review the country's crisis-hit unity government.
Manfred Nowak, special rapporteur on torture, arrived in Johannesburg early on Thursday after being denied entry in Harare and detained overnight on Wednesday, spokeswoman Claudia de la Fuente told AFP.
"They flew back this morning" to South Africa, she said, where "they will decide their next step."
Zimbabwe withdrew an invitation for Nowak to visit just two days before his arrival, citing the "previously unanticipated consultative process" with neighbouring countries in the Southern African Development Community (SADC).
The SADC mission to Harare comes nearly two weeks after Tsvangirai cut ties with President Robert Mugabe's "dishonest and unreliable" camp and embarked on a regional tour to appeal to southern African leaders to intervene.
The boycott has sparked the biggest threat to the fragile partnership since it formed eight months ago, after disputed polls that saw Mugabe handed the presidency in a one-man run-off.
SADC bills its visit as a delayed but scheduled review of the Global Political Agreement (GPA) which underpins Zimbabwe's power-sharing government between longtime rivals Tsvangirai and Mugabe, who has ruled since independence in 1980.
"The mission is to review the GPA. Obviously, we have to take into consideration what is going on," SADC executive secretary Tomaz Salomao told reporters.
After Harare withdrew its invitation to Nowak, Tsvangirai made his own invitation for the torture expert to visit, only to be denied entry for his planned eight-day fact-finding mission.
"The immigration officials told us 'you are not allowed to go any further'," Nowak told AFP late Wednesday from the airport.
"It's a little bizarre because I do have have a written invitation from the prime minister."
The state-run Herald newspaper on Thursday accused Nowak of trying to "gatecrash into the country" as the SADC foreign ministers arrived for Thursday's meeting.
"Government had already communicated to him that he would have to visit on a later date because the state was presently hosting foreign ministers from the SADC organ on politics, defence and security," the newspaper said.
"We informed Geneva and the UN office here that he should postpone his visit," foreign affairs secretary Joey Bimha was quoted as saying.
Earlier this month, Nowak said he had been invited to inspect conditions in Zimbabwe. He had welcomed the trip as a sign that the government was willing to open dialogue on human rights and allow "unfettered access" to detention centres.
The UN human rights office has underlined the urgency of the mission, highlighting allegations that supporters of Tsvangirai's Movement for Democratic Change remain targets of arrest and intimidation.
Amnesty International warned ahead of the SADC meeting that rights in Zimbabwe were worsening with "unlawful arrests and malicious prosecutions", calling for regional action.
"Zimbabwe is on the brink of sliding back into the post-election violence that marred the country last year, risking undermining the stability brought about by the creation of the unity government in February," it said.
Tsvangirai has suspended ties with the 85-year-old until all unresolved issues in the government's unity pact are ironed out -- including disputes over key posts and a crackdown against his supporters.