Zimbabweans were set to vote Friday in an election which was virtually certain to end in victory for President Robert Mugabe but likely to do little to halt the country's mounting political crisis.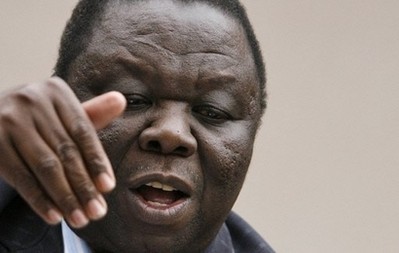 Movement for Democratic Change leader Morgan Tsvangirai addresses journalists during a press conference in Harare on June 25. Zimbabweans were set to vote Friday in an election which was virtually certain to end in victory for President Robert Mugabe but likely to do little to halt the country's mounting political crisis.(AFP/Alexander Joe)
While the 84-year-old Mugabe believes the outcome will give him a mandate to continue governing as he sees fit, his rival Morgan Tsvangirai says the result will be worthless and Africa's oldest leader must accept his time is up.
A raft of international and regional leaders meanwhile have urged Mugabe to shelve the election, arguing that spiralling violence has precluded the possibility of a free and fair ballot taking place.
A total of 5.9 million Zimbabweans will theoretically be entitled to cast their ballot when around 9,000 polling stations open their doors for 12 hours from 0500 GMT, overseen by some African but no Western monitors.
The so-called run-off election comes some 13 weeks after an initial ballot which saw Mugabe beaten into second place with 43.2 percent against 47.9 percent for Movement for Democratic Change (MDC) leader Tsvangirai.
The simultaneous March 29 presidential and legislative election also saw Mugabe's ZANU-PF party lose control of parliament for the first time since independence in 1980.
But the MDC says Mugabe has reversed the odds in his favour in the intervening period through a concerted campaign of violence and intimidation, claiming more than 80 of its supporters have been killed by pro-Mugabe thugs.
The violence has been particularly acute in the countryside -- the ruling party's traditional stronghold but where Mugabe did worse than expected last time round -- with the MDC saying 200,000 voters have since been displaced.
Tsvangirai's name will appear on the ballot papers with the state-run Zimbabwe electoral commission saying it is too late for him to withdraw.
However the MDC leader said in an eve-of-poll interview that it was pointless taking part in a contest when the conclusion was foregone.
"There will be massive frogmarching of the people to the polling stations by force," he said.
"Even if he gets 90 percent it's not different from Saddam Hussein, 99.9 percent of forced voting. What difference will that make?"
Tsvangirai has tried to reach out to moderate ZANU-PF elements, insisting he wants to head up a broad-based government, but sees no role for Mugabe.
Mugabe however made clear in his final campaign rally that he wants to continue as president of the country which he has led uninterrupted since independence from Britain in 1980. While he would be willing to talk to the opposition, negotiations would begin only after he had won a sixth term.
"Should we emerge victorious, which I believe we will, sure we won't be arrogant, we will be magnanimous and say 'let's sit down and talk,' and talk we shall," said Mugabe.
"We will continue to rule this country in the way we believe it should be ruled."
South African President Thabo Mbeki has been leading regional efforts to forge some kind of unity government since the first round but his mediation has proved largely fruitless and Tsvangirai has urged him to step aside.
Although Mbeki has been loath to publicly criticise Mugabe, his revered predecessor Nelson Mandela has criticised a "tragic failure of leadership in our neighbouring Zimbabwe".
US President George W. Bush has said Friday's polls "appear to be a sham" while UN chief Ban Ki-moon renewed his call Thursday to postpone the election "until such time when we can create fair and credible conditions."
Viewed in the first years after independence as a post-colonial success story, Zimbabwe has seen its economy collapse since Mugabe began a controversial land reform programme at the turn of the decade which saw thousands of white-owned farms expropriated by the state.
The one-time regional breadbasket now experiences shortages of even the most basic foods while inflation -- officially put at 165,000 percent but in reality many times higher still -- is the highest in the world.