Twelve employees have been arrested for involvement in the illegal coal ring, said an official of the Police Bureau of Criminal Investigation on Economy and Position (known as C15).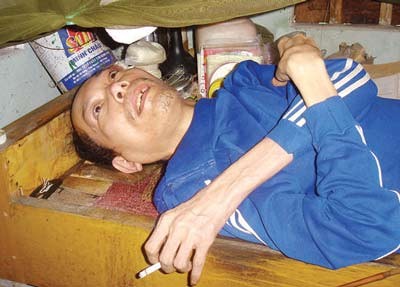 "Director" Le Van Vay attaches to the bed after a bomb in 1972
Those in the ring make fake paperwork to embezzle money from value added tax. Eleven were put into temporary detention, including directors Do Thanh Yen, Tran Quang Vinh and deputy directors Quang Huan and Mac Van Hong, all of whom work for subsidiaries of Quang Ninh Ship Supplying Joint Stock Company.
Under the investigation, these criminals have smuggled around 1 millions of tons of coal from the northern province of Quang Ninh to China in 2007 and the first months of 2008.
To transport a large quantity of coal through the Van Gia crossing border to China, they bought blank VAT invoices in which have the signature of companies' directors already. They have embezzled over VND5.3 billion.
Many companies in An Duong district in the northern city of Hai Phong were set up this year to provide blank VAT invoice for coal smugglers. The instigator hired farmers to sit in director position, signing documents.
Only when police follow the traces of these invoices to discover directors of illegal companies to be farmers, some of whom were put into prison for four years, others are illiterate, even a paralyzed man can be director. Mr. Le Van Vay, 52 years old, was paralyzed by a bomb in 1972.
Since then, his body attached the small bed.  When being asked why Mr. Vay can be a director in such condition, his younger brother Mr. Le Van Vung started to cry that they are deceived to become director to bell the cat.
In June last year, a stranger entered their small house and persuaded his brother to be director of a company. In exchange, they will give him VND2 million monthly as salary. So many farmers sit the position of director like Mr. Vay.
Ten farmers have been handcuffed, hundreds of other farmers must run away leaving parents and wives and children in districts.
The tragedy of farmers lies on their poverty and illiterate. They live in ragged huts and they did not know how to read and write. As a result, they are seduced into criminal activities.