Murderer Le Van Luyen on Wednesday received an 18-year jail term for killing three people at a gold shop to rob jewelry in the northern province of Bac Giang in August 2011. This is the maximum for his age.
At that time, he was not fully 18 years old yet.
Under the Criminal Code of Vietnam, life imprisonment or a death sentence is not for people under the age of 18.
The Bac Giang Province People's Court sentenced Luyen an 18-year jail sentence for murdering the couple who owned the gold shop and one of their two children.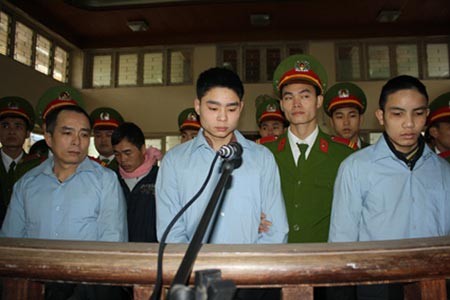 Le Van Luyen (C) behind the bar at the Bac Giang Province People's Court on January 11, 2012
The victims' family said they would appeal for a higher-level court.
In addition to Luyen, his father Le Van Mien got a 48-month jail term, his cousin Truong Thanh Hong got 30 months, his aunt Le Thi Dinh 15 months, and her husband Le Van Nghi 15 months. Hong's father Truong Van Hop was sentenced 12 months in jail and Hong's mother Duong Thi Luoc 9 months.
All the six defendants were charged of concealing the criminal.
During the court, chief judge Than Quoc Hung announced all the statements of 8-year-old girl Trinh Thi Bich, the other child of the dead couple, who survived after the murderer tried to kill her. She was not present at the court.
The chief judge said the 8-year-old survivor stated that there were two killers, not one as Luyen said he was the only murderer in the case.
After the two-day court, the victims' family and many of the witnesses said they did not agree with the court ruling.