The trial of 23 people for corruption related to Project 112, a national program to computerize public administration, opened in Hanoi January 13.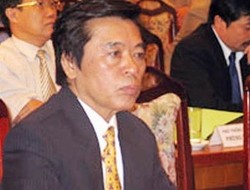 Vu Dinh Thuan, former deputy head of the Government Office and head of the 112 project, allegedly pocketed VND275 million.
Vu Dinh Thuan, former deputy head of the Government Office and head of the project, Luong Cao Son, former deputy director of the Government Office's IT Center and executive secretary of the project, and Nguyen Cat Ho, former head of the project training team, have been charged with "abusing their position and power while executing duties."
The others have also been charged with "taking advantage of their relationship with people in high positions and power to seek profit."
According to the People's Supreme Procuracy's indictment, Mr Thuan approved 129 no-bid contracts based on Luong Cao Son and Nguyen Cat Ho's proposals between 2003 and 2006.
These were for getting textbooks and other materials printed, establish an integrated database center, and organize training courses.
This caused a loss of more than VND4.6 billion (US$240,000) to the Government.
Mr. Thuan allegedly pocketed VND275 million and Mr. Son, VND800 million. The two are in police custody.
The trial is expected to last two weeks.
Launched in 2002, the VND26 billion ($1.5 billion) Project 112 to computerize public administration by 2005.

But from the beginning the public and experts were skeptical about its feasibility.

In 2006 the HCM City Department of Post and Telecommunications informed the Government about obvious problems in the program, and said the project was wasteful.

It was called off by Prime Minister Nguyen Tan Dung in April 2007.