An anti-terrorism exercise involving 1,000 people was carried out at Lien Khuong International Airport in Duc Trong District in Lam Dong Province yesterday morning, December 9.
Commission of National Civil Aviation Security in collaboration with the Ministry of Public Security, the Ministry of Defense, the Ministry of Transport and People's Committee of Lam Dong Province held the national emergency exercises, under the direct supervision of Deputy Prime Minister Hoang Trung Hai, chairman of the committee.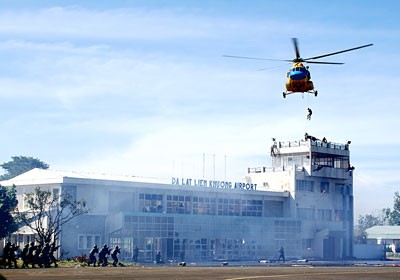 Commandos dropped from a helicopter to the top of an office at the airport to support task force units in coping with the terrorists(Photo: SGGP)
The large scale exercise was jointly organized to deal with acts of unlawful interference to civil aviation, with participants from task forces and mobile police units, including technicians specializing in handling explosives and bio-chemical weapons.
The scenario of the rehearsal was that reactionary organizations in exile can lure and entice 1,000 people to storm the airport terminal, take passengers hostage, and then hijack a plane to escape.
The terrorists blended into the crowd and suddenly opened fire at a number of security personnel and injured people. Realizing that this is a serious menace to national defense and security, the State President declared a state of emergency in some provinces in the Central Highlands, and Chairman of the National Security Committee arrived at the scene and directed the deployment plan to capture the terrorists.
According to the scenario, anti-terrorist units were required to launch an attack on the hijackers, shooting them dead or taking them alive, rescue hostages, protect property of the airport, and detect and defuse explosives and chemical weapons installed in the airport and on the plane by the terrorists.
Deputy Prime Minister Hoang Trung Hai, Chairman of the Committee of the National Civil Aviation Security directly steered the maneuvers.
Speaking to the media, Dep. PM Hai stressed that the drill is aimed to enhance the security awareness and vigilance of forces in charge of protecting airports, strengthening the coordination between different forces in anti-terrorism, and improving plans for fighting terrorists and hijackers and for search and rescue operations.
Bearing in mind that security at airports in the world has become a complicated issue, this drill will help improve the ability to combine various forces to fight terrorists, and protect life and property at airports in Vietnam, the Deputy Prime Minister said.