The appeal court upheld the life imprisonment sentence for Huynh Thi Huyen Nhu, former deputy chief of the Risk Management Department of the Ho Chi Minh City branch of the Vietnam Joint Stock Commercial Bank for Industry and Trade (Vietinbank), on January 7.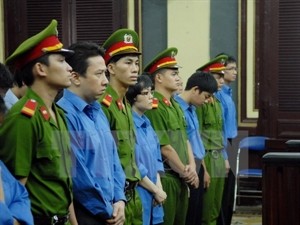 At the event (Source: VNA)
Nhu, born in 1978, was convicted of "swindling to appropriate assets" and "counterfeiting seals and materials of agencies and organisations" at the first instance trial in January last year.
The appeal court also kept the order for Nhu to pay compensation to victims, including 45.4 billion VND (2.1 million USD) to Zen Plaza company, 200 billion VND to the Nam Viet Bank (Navibank), 135 billion VND to the Vietnam International Bank (VIB), over 668 billion VND to the Asia Commercial Bank (ACB), among others.
However, the court annulled part of the original sentence regarding the defendant's swindling to appropriate assets to five companies, including the Phuong Dong and Saigon Bank Berjara Securities Joint Stock Companies, Hung Yen Investment JSC, Toan Cau Insurance Company and An Loc Company for re-investigation and re-trial.
The court said as Nhu was appointed head of the transaction department of a Vietinbank branch, there were signs that she had abused the power of her position to violate the law, hence the re-investigation. The court also requested considering the responsibility of Vietinbank in the case.
According to the indictment at the first instance trial, in 2007, Nhu took advantage of her professional position to mobilise over 200 billion VND (9.43 million USD) from many banks, organisations and individuals at high interest rates to invest in the local property market.
In 2010, when the market stagnated, Nhu suffered huge losses and fell into insolvency.
From March 2010 until September 2011, under the pretext of mobilising capital for two Vietinbank branches, Nhu allegedly obtained loans totalling 3.9 trillion VND (185 million USD) from three individuals, nine companies and three banks.
She also forged the seals of Vietinbank and companies such as Phuc Vinh, Thinh Phat, Hung Yen, An Loc, Duc Minh Quang and Saigonbank Berjaya, as well as nearly 200 documents, including 110 false contracts between Vietinbank's Nha Be branch and individuals and agencies.