At the office of Southern Police Bureau of Ministry of Public Security, Major-General Pham Nam Tao, Deputy Head of the Police Bureau met with Mr. Darren Rath, representative of Australia Federal Police (AFP).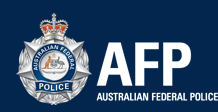 Logo of AFP
They talked about the cooperation on fighting child abuse between the two countries.
By statistics from the Criminal Investigation Police office under Ministry of Public Security, from early 2006 to date, Viet Nam has identified and filed seven criminals who were Vietnamese-Australian and Australian committed murder or child abuse.
Several years ago, Vietnamese police assisted AFP to investigate and arrest or provide necessary files of those wanted by AFP.
On behalf of AFP, Mr. Darren Rath appreciated Vietnamese police's great assistance in dealing with criminals, especially those charged with child abuse.
To enhance two sides' cooperation, AFP has offering Viet Nam criminal information, experience of criminal investigation and equipments.