HA NOI (VNS) — Motorcyclists may soon be fined VND100,000-200,000 (US$5-10) if found wearing substandard helmets.The helmets, including some described as "eggshells", would then be destroyed.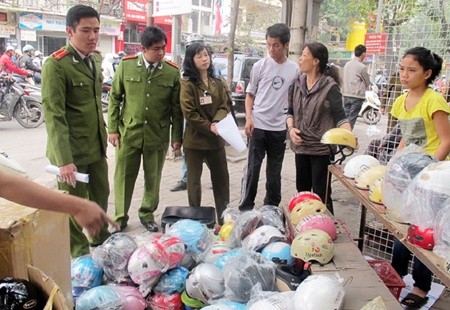 Authorities to crackdown on dangerous 'eggshell' helmetsAuthorities inspect helmets for sale in Ha Noi. Traffic police will be empowered to seize substandard helmets from motorbike riders. — VNA/VNS Photo Doan Tan
In a recommendation by the National Traffic Safety Committee, traffic police would be empowered to seize substandard helmets from motorbike riders.
According to the plan, which would come into operation on June 15, traffic police would at first stop riders wearing substandard helmets and warn them.
Localities have been ordered to warn those making and selling substandard helmets.
HCM City's Traffic Safety Committee said it planned to begin a month long programme to help people understand the difference between safe and unsafe products.
Under regulations, all helmets must meet national standards. All must conform to set technical and safety requirements and have efficient padding to absorb shock.
In addition, all helmets must be stamped with the letters "CR" (conforms with regulations).
Nguyen Anh Son, 24, said he recently bought a helmet worth only VND 30,000 ($1.50) in Kim Nguu Street.
Son said he knew it was poor-quality, but he still bought because he felt it was lighter and more comfortable than the standard helmet he was wearing.
Dao Hai Yen, 23, admitted that she wore a substandard helmet because it looked more fashionable, but said she would wear a safety one in future to avooid being fined.
Viet Nam has more than 37 million registered motorbikes.