Police in the northern province of Bac Ninh on Thursday decided on a thorough investigation of the motorbike explosion in which a pregnant woman and her four year old daughter were killed on December 1.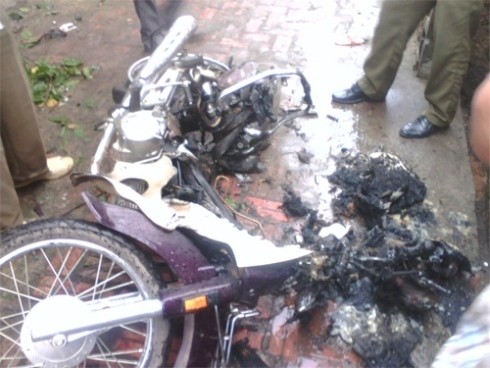 The Super Dream motorbike that exploded on December 1 in Bac Ninh, killing a pregnant woman and her 4-year-old daughter
The Criminal Science Institute under the Ministry of Public Security sent their findings to the police department in Bac Ninh Province, stating that the Super Dream motorbike manufactured by Honda Vietnam had exploded suddenly without any inflammable substance nearby, with the fire starting near the battery close to the fuel tank.
Police in Bac Ninh will accordingly conduct a thorough investigation to conclude the basic reason of such a deadly explosion.
Koji Onishi, director of Honda Vietnam, said he was unable to comment on the issue before remains of the charred bike have been examined. So far, the company had no access to it. He promised to follow up on the issue and cooperate with relevant agencies to reach conclusive reasons.
There is a deep growing concern amongst the general public and fears are building up, even as experts are still looking to identify   causes of a series of motorbike fires recently.
The Ministry of Public Security has asked firefighters in districts to report of any burnt vehicle case, as this will aid investigation and help warn people of mishaps.
According to Colonel Nguyen Duc Thang, director of science and technology research on fire fighting and prevention, a motorcycle only explodes when there is a gas leak or an electric short circuit.
Three other scooters suddenly erupted into flames and eventually burnt to ash on Thursday. Two of them were manufactured by Honda Vietnam Company.
The bikes burst into flames in Que O village in Chi Lang Commune of  Que Vo District in the northern province of Bac Ninh, and were soon reduced to a their bare metal frames in a matter of minutes.
Soon upon receiving the news, police of Bac Ninh and staff from the Criminal Science Institute arrived at the scene to examine the charred bikes.
On Thursday, student Nguyen Thi Ngoc Han, 22, was sitting on her Wave S motorbike on Le Dinh Ly Street in the central city of Da Nang, waiting for her friend.
Suddenly, she noticed smoke come out near the saddle seat area. She quickly jumped out of the motorbike before the flames spread. People on the street rushed to help her put out the  fire.