Nguyen Duc Kien, deputy chairman of Vietnam Professional Football Company (VPF), co-founder of Asia Commercial Joint Stock Bank (ACB) and shareholder in some of the largest banks in Vietnam, was arrested for insider trading in Hanoi on Monday.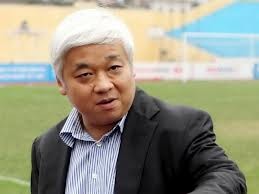 Nguyen Duc Kien
The announcement was made by Nguyen The Ky, deputy head of the Central Committee for Propaganda and Training at a press conference in Hanoi on Tuesday.
Late afternoon on Monday, the Investigation Agency under the Ministry of Public Security arrested 48-year-old Nguyen Duc Kien and searched his house on Tay Ho District in Hanoi for any incriminating documents for further investigation into his intentional delving in internal trading activities.
Kien is co-founder of the Asia Commercial Joint Stock Bank (ACB) and owns holdings in other commercial banks like Vietbank, Eximbank and Sacombank.
Kien is also chairman of the Hanoi football club and founder of Vietnam Professional Football Joint Stock Company.
According to an ACB representative, the arrest of Kien will not affect their operations as he is not the largest shareholder of the bank any more and also not a member of board of directors.
The bank also said that since their director-general Ly Xuan Hai is at present preoccupied with the investigation of the case along with related agencies, he is unable to devote much time to the bank .
However his absence will not affect the bank operations as they have senior executives to currently oversee the bank's daily activities.
Transactions continued as normal at ACB on August 21 (Photo: SGGP)
After Kien was arrested, ACB reported that the State Bank of Vietnam had put measures in place to ensure that the bank's liquidity is not affected.
Answering queries of National Assembly delegates on Tuesday afternoon, Nguyen Van Binh, Governor of the State Bank of Vietnam, said that he has ordered measures to support liquidity in ACB and other financial institutions in case of sudden excess cash withdrawal.
Mr. Binh said that Kien was a former chairman of the founding body of ACB, which is still not registered formally. According to the law, joint stock commercial banks only comprise of board of directors and a managing committee.
Kien is not a member of the two above boards of ACB, thus his arrest will not affect the bank's operations, said Mr. Binh.