As a result of public protests against a decision by the Ministry of Agriculture and Rural Development to confiscate 41 rare Indochinese tigers raised by a businessman in the province of Binh Duong, Ha Cong Tuan, Director General of the Department of Forest Protection, talked to reporters concerning the matter.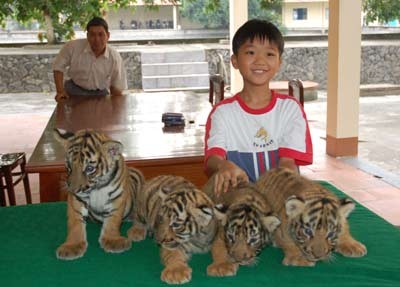 Four cubs are raised at the director's house
The director said that, while the tigers were illegally bred in captivity without a certificate of origin, inspectors have suggested that Ngo Duy Tan, Director of the Pacific Beer Company in Binh Duong, be allowed to continue breeding the tigers since the government's policy is to protect and support private individuals and agencies that breed wild animals.

The Department of Forest Protection will also send a petition to the Prime Minister not to fine the breeding farms and to purchase all of the first generation cubs, according to Mr. Tuan.

He further stated that officials from the Department and other local authorities will supervise the breeding process.

At present, there are around 50 breeding tigers in captivity in Viet Nam. In 1992, there were 300 tigers living in the wild but only 130-150 of those remained by 2002.

Dr. Ha Dinh Duc, a Professor at Hanoi University and member of the World Conservation Union and Species Survival Commission, said that getting tigers to breed in captivity is a major accomplishment.

Ironically, he added, human beings actually make big contributions to rare animal conservation. For instance the Cheetal deer, faced with extinction in the wilds by 1960, were saved from that fate by people breeding them for business purposes.