Blogger Huong Tra will publicly apologize to singer Phuong Thanh and issue a denial of slanderous statements made on her blogsite Co Gai Do Long about the pop star's September concert, "Mua" (Rain), said Ha Thi Thuy Duong, official representative of Huong Tra at the first arbitration session at Tan Binh District Court yesterday.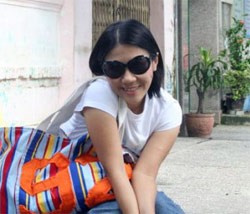 Blogger Huong Tra
Tra, a freelance journalist, wrote on her site that the show was free to all and portrayed the pop star as a ruffian.

Tra's blog has been among the most popular websites among Vietnamese bloggers and receives a huge number of visitors and comments each day. Thanh thus immediately lodged complaints with competent authorities, accusing Tra of "tarnishing her fame."

The pop star accepts Tra's apology and requests the right to vet any statements related to her before they are posted to the defendant's blog. She also reserves the right to determine how long any entry related to her may exist on the site.
Thanh was however somewhat miffed at the absence of Tra at the court yesterday and requested she be present next time.
Related article:
Singer and Blogger in Showdown Amid Booming Weblog in Viet Nam